2. Iranian Petrochemical Industry:
Introduction and history:
Petrochemical is a major industry in Iran and according to the new "Iranian Constitution" it has been categorized under the 4 main "Mother or Fundamental" Industries which are mainly state owned and any business of it needs passing a law at the "Iranian Parliament". Though, this never happened when it was decided to "privatize" many of these complexes.
Petrochemical Complexes are an important source of non-oil revenues and play significant role in expansion and growth of local downstream industries, the development and localization of technologies. It is also important for the industry's research and development activities. Diversity of feedstock, access to international waters and highly qualified man power and expert human resources are among the main advantages of these industries in Iran in principle.
The history of Iran's petrochemical industry goes to 1963 when a fertilizer plant was built in the rural parts (Marvdasht or Pasargad) of city of Shiraz . One year later, the state-owned National Petrochemical Company was established to spearhead the development and policy-making for the industry. During 1964-1977, Razi (ex-Shahpour), Abadan, Pazargad, Ahwaz Carbon Black (ex-Iran Carbon), Kharg, Farabi (ex-Iran-Nippon) and Shiraz expansion projects were built. During this period, a large portion of Bandar Imam Petrochemical Co. (ex-Iran and Japan Petrochemical Co.) was completed.
This growth trend was, however, disrupted after Iraq invaded Iran in early 1980's. When the war came to an end, Iran started re-construction and re-planing of its petrochemical industry in the frame work of the implementation of the first five-years development plan (1998-1994) at after revolution era.
Under this new five-years development plan, NPC reconstructed its facilities which were badly damaged during the imposed war and built two new plants in Isfahan and Shazand (Arak Province). In 1997, NPC's output reached 5.2 million tons and in 2016 it rose to 59.1 million tons. By implementing more than 55 approved projects, the output capacity will surge and reach about 105 million tons.
Petrochemical Projects & Complexes: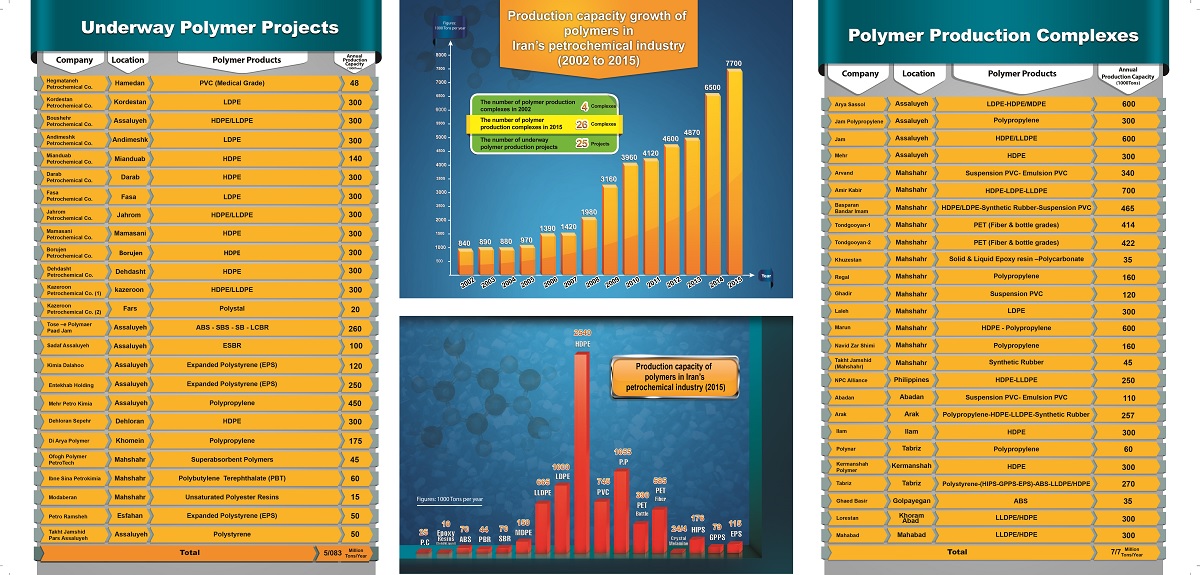 The Iranian Petrochemical industries have been developed in three main regions (apart from small regions which were the mother-land of the Iranian petrochemical industry like Abadan and Pazargad).
Major Iranian Petrochemical Complexes are developed at the following regions:
"Bandar Mahshahr" part of "Khouzestan Province"  is serving 21 Petrochemical complexes with a total output capacity of 25.8 mTons per year
"Assaluyeh" (A port raised from the Persian Gulf) is composed of 15 Petchem complexes with a total output of 26.9mTons per year, but it is still other projects that will add this annual capacity in near future. Fajr & Mobin complexes are shared partly in Assaluyeh and Mahshar.
Other regions