More than 25% Foreign Visitors Registered for Chinaplas 2017
More than 25% Foreign Visitors Registered for Chinaplas 2017: By finishing the 3rd day of the Chinaplas 2017 and registration of near 140k visitors it is now shown that more than 25% of the visitors have been from other countries. This and other news are received from our correspondents.
138.893 is the number of the visitors that was registered after closing the doors of the Chinaplas few hours ago and it was clear that more than 25% of them have traveled to China for this year's of Chinaplas 2017. At this day 11.566 individuals visited the fair. The following image shows the table of visitors in this three days: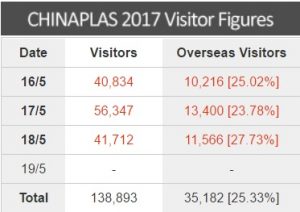 Following previous news, you can read more short news about the hot technologies at the fair.
400m/min high speed electrical shaft rotogravure printing machine:
Adopts low-innertia guide rollers and cooling rollers (less than 2g) from japan, ensures the stability of low tension films during high speed printing. The maximum printing speed is at 400m/min, which helps save tremendous time and solves the tension problem during printing;The machine body frames and other important spare parts are made from high quality one-time casting by using Mitsubishi pentahedron machining center from Japan, which ensures the machining precision is within 0.01mm; the print ink and the odor from the ink can be reduced substantially by utilizing patented fountain ink tray; this machine adopts the latest technology from Japan head office, printing register control, pneumatic components and other spare parts are all imported from Japan, equipped with Japanese coated press rollers, balanced pressure ensures full mass printing; widely used in food, pharmaceutical,clothing and other packaging industries.
A co-rotating non-twin screw extruder with a speed difference
The introduction of the frontier technology This novel technology of the co-rotating non-twin screw equipment has been granted the invention patent certificate of China (Grant no: ZL201310390432.3), which has the original intellectual property right. This new technology is developed under the financial support of National Natural Science Foundation of China (NSFC). In 2016, it was reported as one two significant innovation technologies in new machine processes at ANTEC 2016, the Society of Plastics Engineers Annual Technical Conference. It uses the two non-identical screws to finish the whole process of polymer processing rotating at different speeds, which break through the common ideas that the identical shape and the same speed are necessary for co-rotating screw extruders. The two screws rotate at different speeds, however, they can achieve self-cleaning functions successfully. The periodic compression action caused by the symmetry break effect leads to elongation field and chaotic
AE-480-TS double station all electric extrusion blow molding machine
Akei all electric blowing molding machine, which is suitable for the largest 5 liters of different consumer packaging blow moldingwhich, applies German BECKHOFF central control system, SIEMENS servo motor and driver, SEW reducer, Rexroth linear guide, EXLAR patented roller screw drive electric cylinder, independent mode of car structure and lateral movement of unique preform transfer scheme, has a number of independent intellectual property rights and the patent technology. Akei can provide much more competitive electric solution. Up till now we have developed cooperative projects with domestic and foreign brands. We have participated in two consecutive Chinaplas and Mexico Rubber Exhibition since the launch of the first generation of the motor in 2009 and won the "innovative energy-saving host award" rating by "Vogel industry media" in 2012 . After several years of precipitation technology, 2016 Akei launched the second generation of the electric bottle blowing machine.
ATOS Capsule – Optical Precision Measuring Machine
The ATOS Capsule is an optical precision measuring machine (OPMM) for full-field digitizing of contoured part geometries. The fringe projection system of the ATOS series is used for production quality assurance of small to medium-sized parts and excels by its high precision for fine details. ATOS Capsule is utilized, for example, for first article inspection of gears, turbine blades and wheels as well as medical parts.
Automatic crusher mill sets
To recycle EVA,PVC waste foaming material,and EVA injection wastes.
Arylmax ® K as a family of aromatic polyketones, it exhibits higher service temp (Up to 30° higher glass transition temp Tg), lower process temp (down to 310° melting point), and lower production cost than PEEK. It has higher modulus and mechanical property than PEEK at high temperatures. Arylmax® K shows excellent bonding to most metal or non-metal substrates comparing to PEEK and offers unique advantage for insert-molding and is especially useful in Nano-molding technology (NMT) Application: Electronic: UV resistant roller, oven pin, electronic components Oil & Gas: Liner, Seal, valve, Back up ring and most fluid handling components Aerospace composite: Airframe, structural composite Medical device: surgical tool & orthopedic components Special Benefits: The only semi-crystalline polymer with over 170 ºC Tg (higher than PEEK) *Excellent chemical resistance *Potential to meet increasingly critical industrial high temp spec *Both high temp capability & superior chemical resistance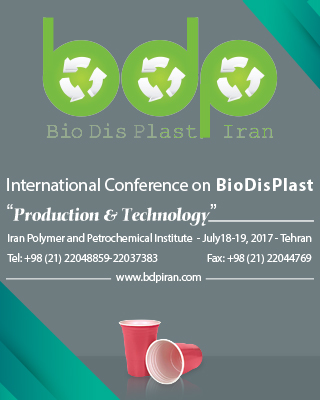 More than 25% Foreign Visitors Registered for Chinaplas 2017