2nd International Conference on Industrial and Systems
2nd International Conference on Industrial and Systems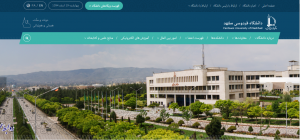 The 2nd International Conference on Industrial and Systems Engineering (ICISE2016) will be held by Industrial Engineering Department, "Ferdowsi University of Mashhad" on 14 & 15 Sep 2016.
ICISE is an "E-Conference" which allows all domestic and international participants to take part economically and time-wise.
It aims to link researchers and practitioners from different branches of industrial and systems engineering as well as engineering management from around the world.
Conference Topics :
Optimization
Quality Management and Quality Engineering

Manufacturing

Production Planning and Operations management

Project Management and Control

Information Systems, Knowledge Engineering and Data Mining

Safety Systems, Maintenance and Reliability

Engineering Economics and Financial Managements

Human Factors and Ergonomics

Supply Chain Management

Artificial Intelligence and Expert Systems

Industrial Solutions:
Healthcare Systems

Energy

Environments

Urban Management

Tourism

IT

High Technologies

General Industries (Agriculture, Automotive, Petroleum, Steel, …)

General Services (Transportation, Education, Finance, …
**********************************
News Edited and Wired by:
Marjan Rezaei
maahbarkoohan@gmail.com
Assistant Editor for the Events Section
08 03 2016
About  Ferdosi University
Founded in 1949 as the largest and oldest university across the East of Iran. Ferdowsi University of Mashhad is one of the nation's premier and prominent research universities. It has owned one of the best website among Iranian universities based on the current results of Webometrics ranking.
2nd International Conference on Industrial and Systems