2nd Shanghai World of Packaging Finished on a High Note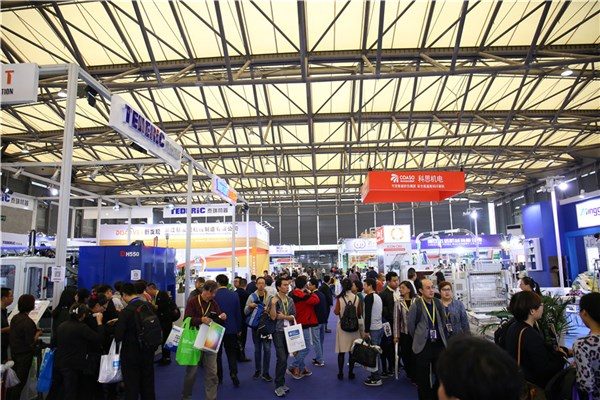 SWOP 2017, the leading processing and packaging exhibition in Asia, has attracted the greatest amount of attention from exhibitors since its inauguration. Just over 600 overseas and domestic exhibitors participated in the event held from Nov. 7-10, including Multivac, HPRPC and other leading processing and packaging manufacturers. 20,053 visitors from nearly 80 countries and regions, such as China, the USA, Russia, South Korea, Japan, India, Vietnam and Malaysia came to the SNIEC fairgrounds to see latest innovations.
The 4-day large-scale exhibition was organized by Messe Düsseldorf (Shanghai) Co., Ltd (MDS), Adsale Exhibition Services Ltd. Visitors also benefited greatly from the event, learning not only about cutting-edge innovative technologies but also about the status of the packaging market. Whether in terms of exhibition topics, concurrent conferences or exhibitor demonstrations swop 2017 focused on innovation much more compared with the previous exhibition. In particular, the SAVE FOOD initiative, with its debut in China, and the newly upgraded FMCG Future Zone have been widely acclaimed.
"With the acceleration of urbanization and the rising consumption level of the middle class, the demand for modern processing and packaging in China is also on the rise. swop, with its four exhibitions and innovative themes, is the one-stop platform for the most advanced technologies and ideas", said Mr. Hans Werner Reinhard, Managing Director of Messe Düsseldorf GmbH.
"As one of the newly-launched membership exhibitions of the interpack alliance based on interpack, the world's leading trade fair for processing and packaging, swop has undoubtedly gained more exposure in the global market and attracted more top industry experts to visit China," commented Mr. Bernd Jablonowski, Global Portfolio Director Processing and Packaging, Messe Düsseldorf.
"This year, swop continues to feature the entire value chain of packaging, from packaging materials production and processing, primary packaging, secondary packaging, logistics/e-commerce packaging to packaging materials and containers, all in one fair. Also the exhibition serves eight industries mainly: food, beverage, bakery, confectionary, cosmetics, pharmaceuticals, non-food consumer goods and industrial commodities. This makes swop the first ever one-stop sourcing platform covering the entire value chain", said Mr. Stanley Chu – Chairman of Adsale Exhibition Services Ltd.
Innovation in exhibits: Industry 4.0, intelligent, digital and sustainable
In following the "Made in China 2025" blueprint, the intelligent manufacture of packaging is the trend of the times and many exhibitors have embodied this. For example, the connection of intelligent software with machines better meets individualized needs. At the exhibition venue, the theme of sustainable development was everywhere. Many companies have demonstrated their efforts in terms of reduced thickness of packaging materials, lower resource consumption and improved manufacturing processes. In addition, green and eco-friendly packaging materials have become an important trend.
SAVE FOOD debut show in China yields brilliant results
Six years since its introduction, the SAVE FOOD initiative by the Food and Agriculture Organization (FAO) of the United Nations and Messe Düsseldorf GmbH, organizer of interpack, has grown into a broad-based international coalition with more than 850 international members covering relevant industries, associations, non-governmental organizations and research institutions. SAVE FOOD premiered as a special theme at swop 2017 and was featured within the exhibition area in Hall W2 along with an international summit on the second day of the show. Vincent Martin, China and North Korean representative from the UN Food and Agriculture Organization, was invited to visit the scene and deliver a speech on "Reducing global food waste through innovation and partnership." Martin pointed out that, "the lack of proper and sustainable packaging solutions in the Asia Pacific region is one of the major causes of food waste and packaging is critical to reducing that. In order to do so, the food industry must work closely with the packaging industry." At the same time, Multivac exhibited its "MultiFresh" skin packaging, an emerging packaging that affixes film as tightly on the surface of the product as a layer of skin, keeping the original product's shape intact which is especially suitable for packaging fresh meat. TOMRA Sorting showed how to significantly reduce losses, save costs and improve profitability of food companies through fast and energy-efficient sorting technology. The US MOCON, Xiamen Changsu and Beijing Lantsai shared the modified atmosphere packaging testing equipment, high-barrier BOPA, smart labels and other cutting-edge products and technologies from the perspective of improving packaging and extending food shelf life. The international summit debut in China attracted nearly 200 professional participants from the food industry and the event was spoken of highly.
Innovation in packaging materials: upgraded FMCG Future Zone highly acclaimed
Relative to processing and packaging machinery and equipment, packaging design and packaging materials feature shorter innovation cycles. The industry also shows increasing interest in packaging materials and products.
Please read more from the "SOURCE"
Related Article:
Interpack Alliance Show-up at SWOP with International High Caliber Exhibitors
2nd Shanghai World of Packaging Finished on a High Note