Are Russian Oligarchies interested in PC Projects
Are Russian Oligarchies interested in PC Projects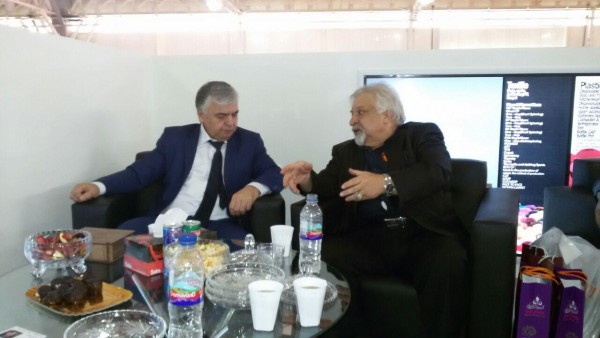 During the 3rd day of IP 2016, Dr. "Rajab Safarov" a known name for many Iranians (even within the public, due to his interviews with VOA) accompanying with the CEO of PIMI Portal visited Hall No. 8 of the 10th IranPlast Exhibition.
Halls 6 to 9th of the Exhibition have been allocated for raw materials and semi-finished products. Any visitor can see the glorious decorations and two floors stands furnished with VIP rooms for special gusts and customers.
The hall no. 8 with stands belonging to the medium to giant raw materials' producers, either national like NPC or private like many of it, made something clear: Russian Oligarchies are taking out their dazzling capitals from US, Mexico, S. Arabia and even Turkey and are looking for a safe place to invest it.
Interesting questions, the time and the energy that Dr. Rajab Safarov with his accompanying team composed of 3 (excluding of the CEO of PIMI) media and business experts spent to visit several stands, showed that he is looking for a safe place for his more than a rich friends (and, as he called them; The Oligarchies of Russia) to invest in.
At the NPC headquarter within the heart of Hall 8, the questions and the solutions showed that the new plans and projects of the NPC could be the final step for what he was looking for.
According to all discussions, it seems that Dr. Safarov is more than serious to establish an office for "Polymer Stock Exchange" in Moscow / Russia. How it may work and turn to a reality, needs time and patience.
No Traffic jam; an index for the level of welcoming
Normally and based on the experiences from all previous editions of IranPlast, the local traffic jams at the surrounding streets and highways in conjunction with several complaints of the residents are symbols of successful and most welcomed exhibitions, and in the other words, an index of too many visitors. At this edition of IranPlast, accessing to the fairground within 5 minutes from the main highways around the Tehran's Fairgrounds sounds not only for lack of enough visitors which usually create heavy traffics, but also less than many expectations for visiting the Show. Why? Because, who on earth can show a plastics & rubber exhibition without any local machine manufacturer?
This is a question which must be answered by NPC and the organizer. Not now, but for sure after the exhibition. The Iranian plastics industry is seriously waiting for the answer.
Are Russian Oligarchies interested in PC Projects