Back to US with hand woven carpets 07 02 2016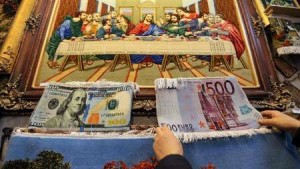 The first consignment of Iranian carpets has found its way into the US market in Los Angeles after Iran and the P5+1 group of countries started implementation of their nuclear agreement.
According to a report published by the Los Angeles Times on Friday, the consignment was discharged from US customs last week putting an end to years of waiting by carpet dealers in the United States to get their hands on Iranian masterpieces.
"I wanted to cry," Alex Helmi, owner of Damoka, a Persian rug store in Westwood, told Los Angeles Times as he gathered his employees, telling them to drive to Los Angeles International Airport to pick up the shipment, which consisted of 40 handmade rugs.
Helmi said he had been selling Persian rugs for decades, but this consignment marked the first time he was getting merchandise directly from Iran since the United States imposed sanctions on the Islamic Republic of Iran over its peaceful nuclear program back in 2010.
Included in Helmi's new shipment were 13 large rugs, some of them more than 100 years old. Most are made of pure silk, he said, though some are a mix of silk and gold-plated thread.
According to the dealer, the rugs are being sold for between USD 10,000 for a smaller rug and USD 100,000 for a fine, large rug.
'It's a shame to not let this art come to the United States,' he said, adding, 'Art never has borders.'
The shipment was made possible after Iran and the P5+1 group of countries – the United States, the UK, France, China, and Russia plus Germany – started the implementation of the nuclear agreement, also known as the Joint Comprehensive Plan of Action (JCPOA).
According to JCPOA, the sextet lifted sanctions it had imposed on Iran over the country's nuclear program. In return, Iran has accepted to impose limitations on its nuclear activities.
Head of the Iranian National Carpet Center Hamid Kargar had said in late October 2015 that the Islamic Republic will resume direct exports of Persian rugs to the US in early 2016.
He added that before 2009, the United States ranked first among countries importing Iranian hand-made carpet accounting. for 16.5 percent of total Iranian exported carpets, worth USD 82 million.
In August 2015, the US-based Boston Globe newspaper published a report, saying that Iran's hand-woven carpets will once again conquer US markets after sanctions imposed on the Islamic Republic are lifted
Back to US with hand woven carpets 07 02 2016