Bilateral Cooperation Agreement Signed Between Iran and Russia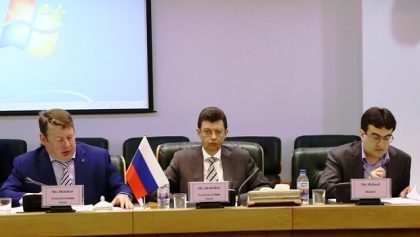 The bilateral cooperation agreement between Iran and Russia has been signed at the sixth Iran and Russia Banking and Finance Group Summit which was hosted by the Central Bank of Iran.
Referring to the presence of senior executives of large banks in the summit as a sign of interest in expanding banking relationships, Deputy Governor of Central Bank of Iran for international affairs, Hossein Yaghoubi Miab said "We hope that the summit will lead to more advanced banking relationships and increased volume of trade between the two countries."
Yaghoubi also noted to American disloyalty to international agreements and their failure in compliance with global principles and said "in such a situation, deepening and expanding ties between Russia and Iran is necessary."
Deputy Governor of Central Bank of Iran for international affairs referred to Iran's exports to Russia which totaled $ 286 million in 1396 (2017), while the volume of imports from this country was $ 704 million and stressed that the volume was far from the objectives of high-ranking officials of two countries hence they must facilitate the expansion of trade exchanges by removing constraints and paving the way for further banking relationships.
He also noted lack of cooperation, bureaucracy requiring multiple documents for opening bank accounts in Russian banks, problems in transferring revenues from Iran's exports to Russia, the impossibility of payments in Euros by Russian banks, barriers to the letters of credit provisions, and the impossibility of transferring remittances as obstacles to bilateral relations between the two countries.
Yaghoubi emphasized increasing correspondent banking relationships and payment channels between two countries especially in the CIS countries and Eastern Europe to lift the mentioned obstacles.
He further underlined the needs for using national currencies in trade between Iran and Russia, holding negotiations to set up a messaging system for financial and banking transactions, organizing workshops for bank employees and following up Iran's membership in banking committee of Shanghai Cooperation Organization as an observer.
Dmitry Skobelkin, Deputy Governor of The Central Bank of the Russian Federation stated that development of economic and trade relations required expansion of banking ties between the two countries. Skobelkin announced that 24 Iranian banks and credit institutions had established correspondent relations with seven Russian banks. Also, a number of Iranian and Russian banks carried out the process of opening correspondent accounts in local currencies.
Skobelkin pointed to high potentials of the banking systems of the two countries and expressed hope to see an increase in the level of trade and economic exchanges between the two sides by using all capabilities. He further announced the readiness of the CBR to eliminate the restrictions on the development of banking relations.
At the end of the meeting an agreement on financial and banking cooperation between the two countries was signed by Yaghoubi and Skobelkin.
According to this agreement, instructions for sending documents to open an account by Iranian banks in Russian banks will be sent from the CBR which will save time and money for Iranian banks.
The mentioned agreement also emphasizes implementation of a monetary and financial messaging service between the two countries, concluding Joint Monetary Agreement and making use of reinsurance capacity in the new package of financial and banking cooperation between the two countries.
Bilateral Cooperation Agreement Signed Between Iran and Russia