Efficiency and Uniformity in PVC-O Pipelines for Many Applications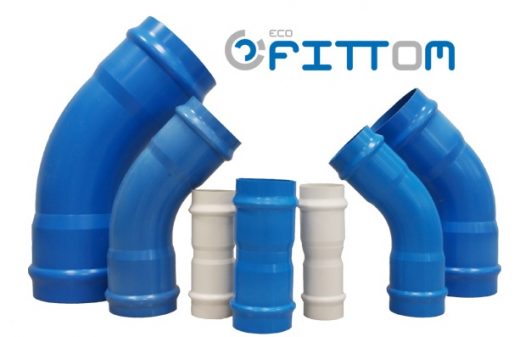 Efficiency and uniformity in PVC-O pipelines, is a new PR from the Spanish Molecor company. The company is almost a unique world leader of PVC-O material and relevant applications.
With ecoFITTOM® Molecor offers a continuous system in PVC-O; this material continuity guarantees the same hydraulic and mechanical properties in the different elements of the network, in the pipes as well as in the fittings.
Continuous system: ecoFITTOM®offer the opportunity to obtain more homogeneous hydraulic networks in terms of the materials that form them. This guarantees a complete watertight of the unions and a noticeable decrease in eventual breakages and leakages.
Guaranteed water quality:ecoFITTOM® is immune to corrosion and to the chemical aggressions from mirco- and macro- organisms. The quality of the conveyed water remains always unaltered, thus meeting the health standards for water for human consumption.
Reduction of the water hammer effect: PVC-O capacity to endure water hammer is really high. This effect can be, in plastic systems, up to four times lower than in systems made of other materials.
In addition to this, PVC-O pipes and PVC-O fittings do not require any type of external or internal protection or coating against corrosion, unlike metallic fittings. Consequently, their manufacturing costs are lower.
Furthermore, no heavy machinery is required for their installation. Thanks to their lightness and easy handling, given by their excellent physical and mechanical characteristics, the ecoFITTOM® fittings can be installed manually up to DN315 mm (12"), something that contributes to reduce the installation costs and times considerably.
About MOLECOR:
Molecor is a leader company specialized in the development of the latest technology applying Molecular Orientation to pipeline solutions with astonishing mechanical properties. Founded in 2006 by highly skilled engineers in this field, with a proven experience in the plastic pipe division, this revolutionary developed process provides reliable and user friendly systems that widen the pipe global business possibilities.
Our workforce is a highly qualified team. More than half of them are engineers specialized in a range of technological areas, being our most valuable asset and the driving force behind our continuous research and development.
Molecor activity is developed around two main axes: the development and manufacture of increasingly efficient systems and the manufacture of PVC-O pipes.
The capability of simultaneous engineering with our customers allows us to accelerate the "time to market" for our new product design and developments. As a result of this effort, our products have surpassed the most demanding implemented tests and are able to provide a longer working life under the most extreme conditions.
Efficiency and Uniformity in PVC-O Pipelines for Many Applications