First Austrian-Iranian Made Bio-Material Tested Successfully at SPKH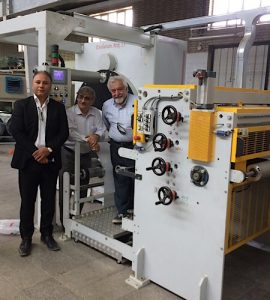 At a very hot (48-55 Cellsius) and humid weather condition of Ahvaz (the capital of the Khoozestan province, south west of Iran and the land of oil and gas) the team of experts working on a uniquely formulated bio-polymer, tested the material successfully at the premises of chain factories of SPKH (Sanaye Plastic Khoozestan) and the trip ended with the first round of negotiations for mass production of the products.
The PLA based material with the patented commercial name of "ö5 Biokas" is originally designed, formulated and tested at the Austrian company "Chemie KAS GmbH" based in Vienna and directed by an Iranian genuine scientist and polymer technologist "Dr. Soheil Samie". After the first sounds of success, he decided to follow further test runs of the formula at a factory in Iran (the named not disclosed yet). The new bio based compound, then, produced in a pilot capacity for actual, real time and real production environment. The laboratory test runs and further test for the pre-factory test runs started in Iran by sharing the "Khatam Polymer" laboratory owned and supervised by Dr. Rasoul Orumieh a university professor and a confident signatory for standard tests approved by the "ISIRI".
According to the report, after several discussions with selected production companies active in disposable dishware mass production, the SPKH Co. (Owned and directed by Eng. A Nayyeri: right image at the left photo) agreed to devote its production units including a three layers Italian co-extrusion line,   a German vacuum forming machine and also all QC and testing possibilities. The actual test run, further, started on yesterday Friday week-end in Iran at a very hot and humid environment in SPKH production hall 5, 13 and 3.
"Due to high humidity of the location, being confident that the material is absolutely dry, was the first and the main problem of the several initial test runs", said Dr. Soheil Samie the head of test delegate (Dr. S. Smaie, Dr. R. Orumieh and A. A. Saatnia the CEO of this portal and part of the group). However, since "SUCCESS" was the main goal, finally all technical problems solved and the reel of sheets made ready for vacuum forming, which ended with the first really Iranian made bio base plastics goods. Further reports will be published in near future. Photo shoots were needed for archiving the great success of Dr. Samie team and ö5 Biokas!
Further report will be published at the special issue of the Plastics Industry Magazine on the occasion of Iranplast 2017.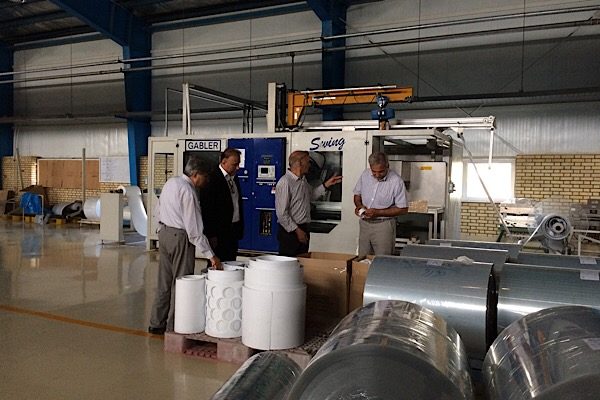 First Austrian-Iranian Made Bio-Material Tested Successfully at SPKH