First Series Application of The ColorForm Process from KraussMaffei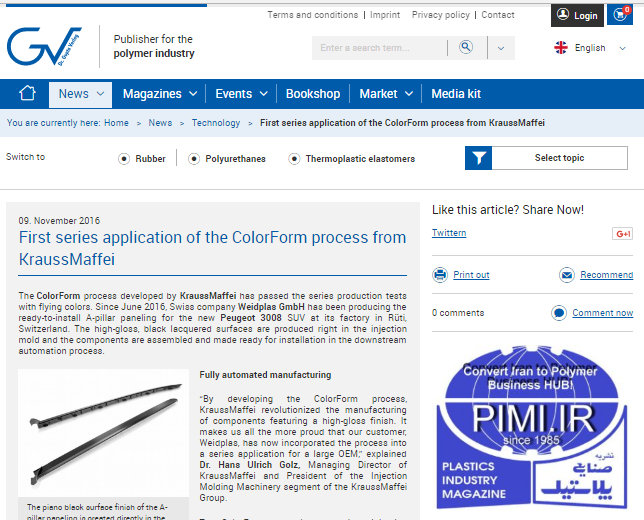 The ColorForm process developed by KraussMaffei has passed the series production tests with flying colors. Since June 2016, Swiss company Weidplas GmbH has been producing the ready-to-install A-pillar paneling for the new Peugeot 3008 SUV at its factory in Rüti, Switzerland. The high-gloss, black lacquered surfaces are produced right in the injection mold and the components are assembled and made ready for installation in the downstream automation process.
Fully automated manufacturing
"By developing the ColorForm process, KraussMaffei revolutionized the manufacturing of components featuring a high-gloss finish. It makes us all the more proud that our customer, Weidplas, has now incorporated the process into a series application for a large OEM," explained Dr. Hans Ulrich Golz, Managing Director of KraussMaffei and President of the Injection Molding Machinery segment of the KraussMaffei Group.
The ColorForm technology combines injection molding and reaction process machinery and enables fully automated manufacturing in a one-step production cycle. First, a thermoplastic base body forms in a mold, which is then flow-coated directly in a second cavity using a two-component polyurea (PUA) or polyurethane (PU) paint. The result is a finished component with the desired lacquered color assignment and a premium-quality surface, produced within one minute.
Positive first experiences with the ColorForm technology had led Weidplas to become a project partner of KraussMaffei back at K 2013. For the ColorForm production cells currently installed in the Rüti factory, the customer thus again opted for the swivel plate technology that has been implemented in a SpinForm GXW 650 – 1400/2000 injection molding machine with a clamping force of 6,500 kN. The cover with the ColorForm surface and the seal carrier lying underneath are injected simultaneously. The second injection unit of the injection molding machine is used to apply a TPE sealing element to this carrier. This produces one set per cycle with a left and right A pillar paneling. The 4.5 ton spin-platen mold with four cavities, a multi-sprue system as well as hot runner technology from HRS flow was built by the Hofmann Innovation Group from Lichtenfels, Germany. The reaction system technology for the "Panadur Black" polyurea lacquer is … .
For Read More From The Source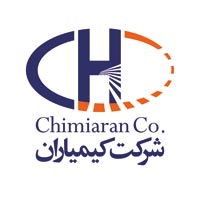 First Series Application of The ColorForm Process from KraussMaffei