Global plastic pipes demand to reach 37 million tons by 2023, forecast Ceresana
Global demand for plastic pipes is expected to increase to almost 37 million tons until 2023, according to market research company Ceresana.
Water is becoming increasingly scarce. Yet, it is also a hope for new business opportunities for pipe manufacturers, because modern, efficient pipelines can at least mitigate the problem. In the upcoming years, increasing investments in pipe networks are to be expected, not only for the potable water supply.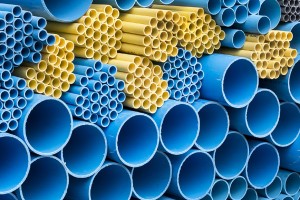 Demand for pipes is especially determined by the development of the building construction and civil engineering: Applications like sewage disposal, potable water supply, or cable protection are directly connected to the order situation of the construction industry.
Plastic pipes continue to replace traditional pipes made of steel, stoneware, or other material, said Ceresana. However, decreasing public expenditure, political insecurities, and the lack of private investments have drastic effects on the construction industries in some countries.
Support programs for particular construction segments and the intensity of promotion of projects for irrigation systems or the expansion of the fiber-optic network are different from country to country.
Different kinds of plastics are favored for the various application areas. For example, pipes made of polyvinyl chloride (PVC) are relatively cheap and are thus used extensively in the sewage, potable water, and cable protection sectors.
Yet, pipes based on polypropylene (PP) and polyethylene (PE) increasingly compete with PVC pipes in the segment potable water – and they already play a major role in the application areas gas supply and industrial products.
New and improved systems for protection against exhaust emission are constantly developed in the segment industrial pipes, e.g. new techniques for the construction of multiple-layer pipe systems and the leakage monitoring.
According to the report, the oil and gas industry has applied increasing numbers of polyamide (PA) 12 instead of steel pipes for several years: This material only absorbs small amounts of water, has a high impact strength, and can be used in a broad temperature range. Possible application areas are, among others, gas pressure pipes.
The most important innovations in the segment plant drainage are sound insulation and noise protection systems: The material used is further developed to reduce resonance as much as possible, which results for example in mineral reinforced polyethylene with a high inherent weight.
News Source : China Plastic & Rubber Journal
Image Source : Trade Arabia


Global plastic pipes demand to reach 37 million tons by 2023, forecast Ceresana