Hennecke Highlights Custom Composite Parts at Camx 2016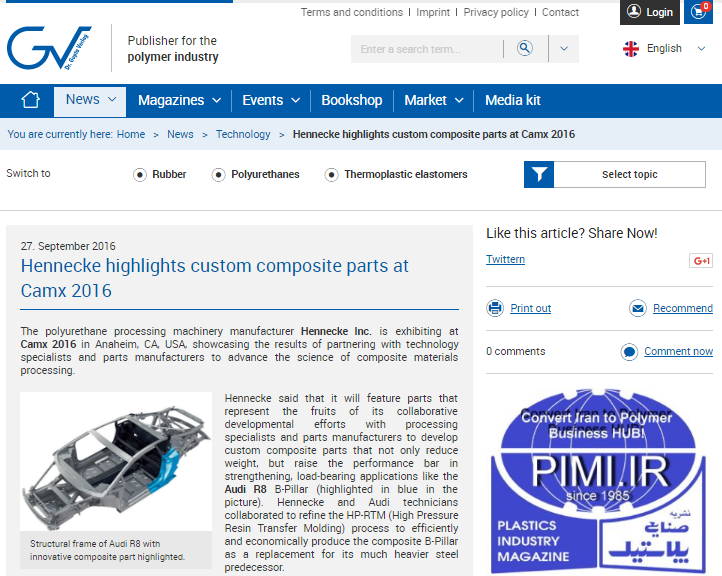 Hennecke Highlights Custom Composite Parts at Camx 2016
The polyurethane processing machinery manufacturer Hennecke Inc. is exhibiting at Camx 2016 in Anaheim, CA, USA, showcasing the results of partnering with technology specialists and parts manufacturers to advance the science of composite materials processing.
Hennecke said that it will feature parts that represent the fruits of its collaborative developmental efforts with processing specialists and parts manufacturers to develop custom composite parts that not only reduce weight, but raise the performance bar in strengthening, load-bearing applications like the Audi R8 B-Pillar (highlighted in blue in the picture). Hennecke and Audi technicians collaborated to refine the HP-RTM (High Pressure Resin Transfer Molding) process to efficiently and economically produce the composite B-Pillar as a replacement for its much heavier steel predecessor.
Hennecke said that it will also feature a lightweight automotive latch cover made from carbon reinforced plastic for the X-Bow sports car. The latch cover was manufactured by KTM and produced through a collaborative process combination of Hennecke's StreamlineHP-RTM machine and a v-duo vertical large-scale machine from Engel. The Streamline HP-RTM process provides such precise control of process automation and cycle time that it offers considerable improvements in … .
Read More From The Source


Hennecke Highlights Custom Composite Parts at Camx 2016