Highest Quality Standards the Drive for Global Cooperation
SIKORA, a German company very expert in the measurement systems (according the PIMI CEO's live witnessing) has released the following PR:
ContiTech in Korbach is using SIKORA's X-ray measuring systems for inline quality control of brake hoses
ContiTech Schlauch GmbH, a division of the technology company Continental, is a specialist in manufacturing automotive and industrial hoses. Since 2006, the company situated in Korbach, Germany, has been using SIKORA X-ray measuring systems in its plants for quality control during the extrusion of brake hoses. The cooperation between both companies is based on a future-orientated solution for automated quality control in the inline process.
Quality and performance requirements for automotive hoses are extremely high. Whether fuel, oil or brake hoses – all specifications must be complied with during the extrusion process. More than ten years ago, ContiTech was looking for a possibility to further automate production processes with regard to quality control of brake hoses during manufacturing. Instead of the offline camera inspection of hose cuttings common on the market, the company chose continuous process control with SIKORA X-ray measuring devices. "The concentricity of brake hoses is a decisive quality characteristic", says Jan Eric Theis, director Plant Engineering Hoses at ContiTech. "Brake hoses must be precisely connected via joints with the suspension components. This can only be ensured by an impeccable concentricity", explains Theis. Several measuring methods for quality control are available on the market. Due to its functionality, however, X-ray technology has proven itself as a leading method for measuring rubber hoses. Conventional technologies like ultrasound are reaching their functional limits, for example, because the signals of the individual layers are mainly absorbed in the rubber hose, and therefore, cannot be analyzed clearly. Before SIKORA devices were applied, the concentricity of the hoses was controlled manually after production. "Today, this kind of inspection is not competitive. We manufacture about 40 kilometers of brake hoses daily. This corresponds to about 15 million meters of hose per year. The increasing production volume was the incentive to further advance the automation of our production", explains Theis. Today, due to the inline application of the X-ray devices, the manufacturer can intervene in the production process, identify eccentricities of the hose and eliminate them as well as their causes.
SIKORA X-ray measuring systems are used at ContiTech for final quality control before vulcanization. Therefore, it can be ensured that the end product meets the required concentricity. Further geometrics, such as diameter, are measured by Laser measuring systems in previous production steps. Even though the X-ray measuring systems can contribute to material saving, ContiTech focuses on the highest quality. "Brake hoses are safety products, thus, concentricity is paramount", says Theis. There are other production advantages: "During co-extrusion, for example, the inner layer of the hose is applied a little thicker to ensure it actually exists to 100 %", explains Peter Hügen, Area Sales Manager at SIKORA AG and direct contact for ContiTech. "With the X-ray measuring devices, both layers are precisely measured and visualized, so that the inner layer can be extruded to minimal thickness", continues Hügen.
ContiTech's aspiration for the highest quality of brake hoses was not the only reason that lead to the cooperation with SIKORA. International standards also give guidelines for quality standards and measuring methods that have to be met by companies and their products. Today, customers demand a 100 % quality control and repeatability, which cannot be done by manual visual inspection. "Our customers are familiar with our quality strategy and know that X-ray technology is an integral part in our production process to produce premium hoses", says Theis.
For the implementation and enhancement of quality standards, ContiTech is collaborating with suppliers like SIKORA for a continuous improvement process. "We understand that our cooperation is driven by our high quality standards", says Theis. Due to an increase of the production speed for a strengthened performance, for example, ContiTech and SIKORA have successfully developed a technical solution in order to increase the sample rate of the X-ray systems and to fulfill quality requirements at the same time.
For product data collection and management, the X-ray measuring systems are connected as standard via interface, such as Profibus or Profinet, to processor systems and the system control. In future, ContiTech is planning — also with regard to Industry 4.0 — to connect plants and systems with machines and operating data logging via OPC UA. Hence, the networking of plants and systems can be improved and relevant data can be archived permanently. SIKORA and ContiTech are also cooperating in this matter to continue ensuring the highest quality of the brake hoses during production.
For the main source please "CLICK HERE"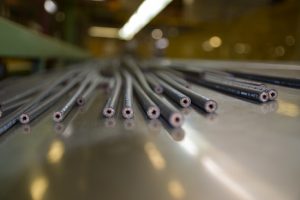 Highest Quality Standards the Drive for Global Cooperation