IIMC 2017–International Injection Moulding Conference in Aachen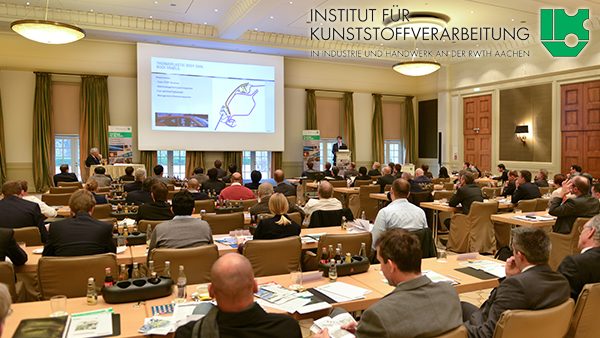 IIMC 2017–International Injection Moulding Conference in Aachen
IKV Conference on March 15 – 16, 2017
Aachen, November 2016 – For the third time, the Institute of Plastics Processing (IKV) in Industry and the Skilled Crafts at RWTH Aachen University has issued an invitation to attend the International Injection Moulding Conference, in short: IIMC 2017. The conference will be held in Aachen on March 15 – 16, 2017. National and international experts from the injection moulding sector will speak about innovative developments in injection moulding engineering and process technology, new approaches for enhancing production efficiency and the impact of digitisation in the context of Industry 4.0 for the plastics industry.
Weight reduction in automotive applications, ambitious material demands in electronics, and stringent requirements on cleanliness in medical engineering are only some of the special challenges facing injection moulding processors. This necessarily means that the injection moulding technologies must be constantly refined and adapted. The papers to be given at the third IIMC will pick up on these challenges and discuss potential solutions and further developments.
Experts from the industry will speak, for example, about optics made of plastics for innovative human-machine interfaces, the shortening of product development processes in electronics, optical lenses made of liquid silicone rubber (LSR), the manufacture of transparent composites, improving the surface aesthetics of body panels, and use of the liquid injection technique in the automotive sector. The topics will be supplemented by papers on software developments and integrative functionalisation processes.
Professor Christian Hopmann, head of the Institute of Plastics Processing, will represent the scientific side, and his scientific assistants will present papers on the importance of Industry 4.0 for the plastics segment, the integrative production of individualised lightweight parts, and the role of simulation in the processing of long fibre-reinforced thermoplastics. Another part of the program will be a visit to IKV's injection moulding pilot plants and laboratories for composite materials. There, members of IKV will give live demonstrations on the machines to give the delegates an insight into research at the Institute.
In addition to the strategically selected topics and papers, the IIMC provides a global, inter-industry network platform for all companies active in the injection moulding segment. The accompanying trade show will also contribute to this. The conference is directed at international managers and experts from all areas of the industry as well as processors, converters, machine manufacturers and raw material suppliers.
The speakers from six countries are from the following companies: Engel, Austria, LG Electronics, Korea, Microsoft Corporation, USA, Sabic, Netherlands, Sanoh, Japan, and Hella, IOS, Osram and SimpaTec from Germany. The conference will be moderated by Dipl.-Ing. Markus Lüling, chief editor of the trade magazine, K-Profi. The conference language is English.
IIMC 2017–International Injection Moulding Conference in Aachen