Inject 4.0 Forum Showed New Dimensions of Smart Factory
"The digital transformation is a long journey. Technologies may change, build a flexible architecture and stay the course. We must have clear business priorities aligned with the corporate strategy"
These were the words of  Dr.-Ing. Michael J. Schachler, Executive Director of Operations and  Global Lead Industry 4.0-Transformation of ENGEL company in his presentation at a forum managed by the Austrian company in Linz (Austria). Pointing to the audience, Dr. Schachler siad: "Process integration is more important than point-functionality because it requires cross functional executive leadership."
He also indicated, "MES functionality addresses various downtimes, including scheduling, maintenance, labor management, logistics, process management and others. Scheduling accounts for the largest proportion (43%), followed by maintenance (34%) and labor management (10%)."
Mentioning about the challenges the industry will face in the advanced stage of automation., Dr. Schlacher said: "Today, there is no ready to run applications available as there are limited resources in-house and at system integrators. On the one hand, carrier vendors don't see themselves as system integrators. On the other hand, customers are very conservative to approve process changes."
With keynote speeches from ENGEL, MES (Manufacturing Executive System) supplier, research institute and downstream customers, panel discussions, as well as a mini exhibition, the Forum, held in the Design Center in Linz discussed the further challenges faced by smart factories in detail, and presented new dimensions of Industry 4.0 and the digital transformations.
PLATFORM Concept the next approach by ENGEL
According to the next speaker, Stefan Engleder, CEO, ENGEL Holding GmbH, the platform concept has the benefits of reducing transaction costs, scale and network efforts, and supporting service based on big data.
The platform can be divided into vertical and horizontal platforms. The former targets functional optimization by smart devices like injection molding machines while the latter targets cross functional optimization such as different types of machines.
Engleder commented that these platforms will form digital marketplace for different plants or different technologies such as plastics, extrusion, recycling, etc. In this case, ENGEL machines and systems are very open, and can be connected to other MES or machines.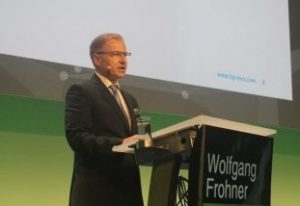 Further, Wolfgang Frohner (left photo) the CEO at T.I.G., discussed on the future of smart production. According to him, future MES will have some major characteristics: reduction in complexity, modularity, standardization of data acquisition and central availability of data.
The significance of data was emphasized in his presentation. "Data is like electricity, without it, there is no light."
In addition, representatives from Linz Institute of Technology (LIT), Ypsomed AG and CNH Industrial Österreich GmbH also shared their experiences in smart production.
The forum continued with a guided tour of the mini exhibition organized by ENGEL.
Inject 4.0 Forum Showed New Dimensions of Smart Factory