IPF 2017 will Show whoes Muscles are Stronger? Trump or Oil!
IPF 2017 will Show whoes Muscles are Stronger? Trump or Oil! ; As scheduled and annonced, today on April 22nd, 2017, inauguration of the 13rh period of the very important and fast growing event in the global petrochemical industry, took place at the IRIB's premisses. At this short report about the first day of IPF- "Iran Petrochemical Forum" – you will see how such a huge gathering from all over the world impacted the foreign delegates.
The opening ceremony of the event was held by the two key Iranian energy and petrochemical officials including Iranian Minister of Petroleum Bijan NAmdar Zanganeh, (who officially inaugurated the event), Managing Director of National Petrochemical Company (NPC) Marziyeh Shahdaei, Secretary General of the Gas Exporting Countries Forum (GECF) Hohammad Hossein Adeli, Amir Hossein Zamani-nia, deputy petroleum minister in international affairs and trading in attendance.
The event is mounted at the Islamic Republic of Iran Broadcasting conference hall with 1,360 Iranian and 101 foreign participants from 18 countries including France, Britain, Denmark, Germany, Belgium, Norway, India, Bahrain, Lebanon, Turkey, Romania, Singapore, Switzerland and Japan.
The participants represented leading petrochemical and energy companies like Total of France, Haldor Topsoe from Denmark, ICIS from Singapore, and Johnson Matthey from the UK.
32 speakers, including 12 keynote speakers, will address the two-day conference.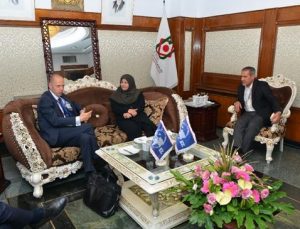 To reade more aboute detils of the first day of IPF 2017 you may refer to the main website of the evevnt at any time at:
However, since NIPNA as a dependent news agency to the Oil Minisry can't dsiclose many "Not-Allowed-TOBE WRITTEN ANYWHERE, ANY-NEWS" So you may always rely on the rest at this and other private websites.
The least logic for the strength of the oil muscles is the long list of non-Iranian travelling to Iran for IPF2017. From Norway down to mediteranian countries anybody can find a name amongst more than 1300 names printed a week before the event.
Now, if you are interested to have a look at the name of speakers, those who run the panrls and the agenda, please "CLICK HERE"
About IICIC ;
Irrespective of all promotions and propaganda about diverse events, IICIC, is one of the leaders of this market in Iran. "IICIC" or "Iranian Inc. for Contemporary International Conferences & Fairs",  established in 1997, is a leading and well experienced event organizer in Iran. Our main objectives have been focused on successfully planning, organizing, and managing domestic and international conferences, seminars, trade shows and other forms of gatherings at regional and global levels. IICIC has evolved significantly in this major industry, organized more than 700 conferences and exhibitions in various disciplines, particularly on Oil, Gas, Petrochemical Industries and Investment and attained a remarkable reputation at regional and international levels. Due to organizing a large number of events at various fields, IICIC has established expanded linkages in different government and private sectors at various levels and has the vigorous capability to act as the reliable consultant of foreign companies/business persons, who would like to have a business activity in Iran. IICIC through taking advantage of skillful and well-experienced management and personnel, with great honor would like to express its interest in providing/organizing the following:
•Organizing demonstration seminars, conferences/technical workshops for promotional activities
•Assisting in getting visas and expediting relevant formalities.
•Establishing the secretariat for the conferences and other events.
• Reserving the convention hall, taking into consideration the type of gathering and number of participants.
•Arranging accommodation, and travel , including reception, transfer and provision of cars, with or without drivers.
•Providing skillful personnel including interpreters, translators, guides, hosts, and hostesses.
•Supplying all kinds of required equipment including sound, video, lighting, graphics, and multi-media equipment.
•Familiarizing with Iran's relevant business laws and regulations.
•Compliance to Iran's Foreign Investment Promotion and Protection Act (FIPPA) to ensure safe and guaranteed currency exchange.
•Registering companies in adherence to all Iranian tax laws and registration regulations.
•Providing all necessary statistical data and information.
• All necessary official translations of documents.
•Organizing B&G and B&B meeting with relevant government and private sector companies, experts, businessmen and officials.
•Conducting comprehensive marketing & need assessment surveys and providing consultancy services.
•Providing legal services to operate safely and effectively in Iran by attorneys licenses to practice business law.
•Conducting in depth analysis of proposed projects by our experts in various economic sectors.
•Obtaining necessary work permits for personnel intended to work or travel in Iran.
•Filing all necessary tax returns to comply with domestic and international rules.
•All needed banking and financial requirements in Iran.
•Obtaining all required permits and licenses to establish manufacturing or joint venture operations in Iran.
•State of the art executive office suites ( in the most prestigious business area in Tehran ) enabling companies to become operation ready at a moment's notice.
•Providing Medium or long term housing needs.
•Accessing to medical and hospital needs of all personnel sent to Iran.
IPF 2017 will Show whoes Muscles are Stronger? Trump or Oil!