IPF2015 A coincidence with Sanctions Removal Flash News 01
IPF2015 A coincidence with Sanctions Removal Flash News 01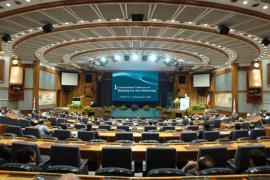 PIMI News Team: Dec. 12th. 2015:
Today, here in Tehran at IRIB's Int'l Conference Centre and in a populous gathering composed of about 700 attendees, apart from 9 speakers within experts coming from 25 different countries of the world (only and just for today, and several more are expected for tomorrow), there were 3 IRI officials which respected this 12th great Congress (in fact and instead of conference), after opening welcomes of Mr.  M.H. Peyvandi (Forum chairman and & VP of NPC) and Mr. A. SahreeMoghaddam (Deputy of Oil Ministry and NPC President) which addressed or directly spoke in front of a huge PC businessmen and women, about it: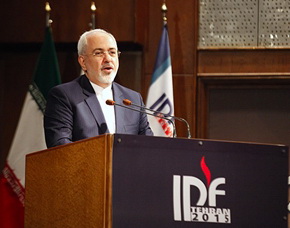 A) Addressing to the opening of the 12th Iran Petrochemical Forum, Mr. Mohammad Javad Zarif (now, a very well known politician in the world) was the first contributorafter welcoming speakers from NPC.
In his speech, M. J. Zarif said: "Iran's petrochemical industry is capable of a boost as a progressive industry in its development in the post-sanctions era.". And then, he pointed out that: "The industry can enter a new setting following removal of the sanctions," he said adding, "The petchem industry is one of the active and dynamic fields which was directly hit by the oppressive sanctions."
Please read his address at: SOURCE

B) Bijan Namdar Zangeneh, the Iranian Oil Minister speaking to the Conference said: "the country has plans to see a giant leap in its petrochemical sector given the investments it will usher in the sector by foreign investors eyeing to join Iran's petrochemical projects after the sanctions removal.'
Then he added: "The value of Iran's petrochemical products is planned to increase to 70 billion dollars, a target which, nevertheless, requires massive investment, modern technology, and marketing,"
"National Petrochemical Company (NPC) follows two targets of sustainable feedstock and construction of infrastructure in the industry.Iran stresses cooperating with the first-class companies to guarantee technology transfer and post-sanctions Iran will be drastically different from the pre-sanctions." He added.
Please read more at:
SHANA
More news and photos, coming next
PIMI's news slogan:  "We never sacrifice the truthful content of any news to show: "we have been the first to report". Ofcourse, PIMI may be:  The last, the in-between, or the first, to report or to analyze any report, but, PIMI is and will remain to be the most trustee in Polymer News broadcasted from Iran"
IPF2015 A coincidence with Sanctions Removal Flash News 01