Iranian Events in Armenia Improves Commercial/Cultural Ties
At the presence of the Iranian Ambassador to Armenia (Seyyed Kazzem Sajjadi)  the Iran Chamber of Commerce in Armenia (Yerevan) was opened in an official briefing.
According to an official Armenian news agency (news.am) the Iranian Ammabassador also had participated at the opening of the Iranian Studies classroom at the Yerevan State University. Please read the news from the SOURCE at the following capture:
"Armenia was in a bad situation, during the period of sanctions against Iran.
Iranian Ambassador Seyed Kazzem Sajjadi on Monday told the abovementioned to reporters, after the opening ceremony of the Iranian Studies classroom at Yerevan State University.
According to him, Iran has been taking steps to establish peace in Armenia even since the Karabakh war.
"The political relations between our two countries have always been very good. We can provide numerous opportunities for you. There is a 70,000-strong Armenian community in Iran. In our country Armenians live very peacefully alongside Muslims. And when the Iranian Armenian comes to Yerevan, it is difficult to define whether he is Armenian from Armenia or from Iran. Work to direct opportunities of Iran, having 80 million population, to Armenia," the ambassador said."
An Iranian song "Ey Iran" is playing by the Armenian musician group.
According to the same source, on Feb. 3rd, the Ambassador of Iran to Armenia had also raised the hopes for the future relations of the two countries. News.com reported at this ocassion reffering to the Iranian news agency IRNA:
"Iranian Ambassador to Armenia Kazem Sajjadi said his country will prepare the grounds for encouraging non-oil exports to Armenia, IRNA reported.
"Iranian embassy will spare no efforts in facilitating trade between Tehran and Yerevan," Kazem Sajjadi said Friday in a meeting with Iranian manufacturers and business people in Armenia.
"Developing ties in all fields is of importance for Iran," he added.
During the meeting, ways to promote economic and trade relations between Iran and Armenia especially the road blocks were discussed."
One of the prouds of the Iranian plastics industries was the presence of Engineer Hervik Yarijaniab at all ceremonies. He is the CEO of KDS company, also the president of the 'Plastic Machine & Mould Makers' Association" (PMMA). At the image photo he is at the middle and at the following photo, at the 5th in right.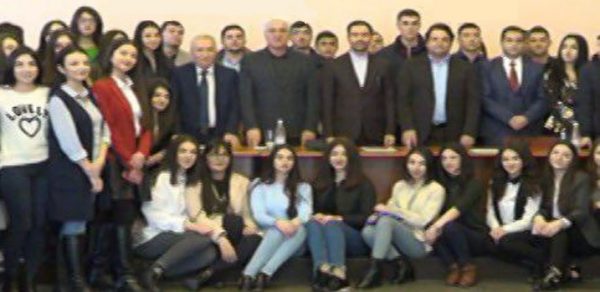 Iranian Events in Armenia Improves Commercial/Cultural Ties