Iranian Exhibitors and their Goals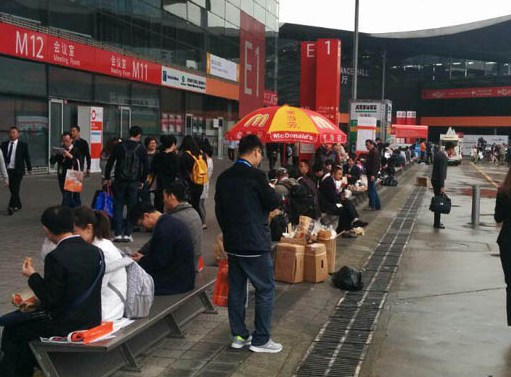 The first day of the 30th CHINAPLAS Exhibition finished an hour ago, with happiness of the staffs of the 4 Iranian large size companies attended at the Show by payments for their stands and the one according to a barter agreement with the Organizer.
Gathered under a roof at the North Halls of the Exhibition, three Iranian Petrochemical Companies have enjoyed their first day by tens of trading business people interested in the Iranian made petchem materials, and among them, the Jam Petrochemical Company (JPC) is the most welcomed one at N4 Hall / Stand A41. Whereas its neighbouring Iranian company is serving many of its current customers: Petrochemical Commercial Company International (PCCI) at N4 Hall / Stand B41 is a traditional exhibitor to this Exhibition since 20 years ago with many customers in the region.
Bakhtar Commercial Company (BCC) is the other large Iranian company dealing with many petchem raw materials at the same Hall / Stand no. N4L41.
Finally there is Shazand Petrochemical Company (ShPC) which is located a little away at the north wing of the Exhibition in Hall 2 / Stand N2P41.
Apart from these 4 Iranian petrochemical companies that are doing their business well even at the first day, the Hall no. 5 of the north wing has presented a booth to PMMA as an appreciation for their activities on absorbing so many Iranian visitors. PMMA, the Iranian Machine Manufacturers' Association is the guest exhibitor of the 30th CHINAPLAS and hopes that through presentation of its members and their abilities could enjoy of regional businesses in near future.
Further news will be presented in hours ahead.
Release Date 25 April 2016
Iranian Exhibitors and their Goals