Italian Ambassador Inaugurates Stone, Mining and Machinery Exhibition
According to Public Relations and International Affairs of Iran International Exhibitions Joint Stock Company, two simultaneous exhibitions were inaugurated at the Tehran's permanent international fairground. The following short report covers both event running now in Tehran.
The 10th International Exhibition of Decorative Stones, Mines, Machines and Equipment opened at the presence of Mauro Conciatori, The Italian Ambassador to Iran, by hosting Dr. Esfahbadi, The CEO of Iran International Exhibitions Co., Dr. Hashemi deputy to Interior Minister, Dr. Sarqini, Deputy Minister of Mines and Mining industry of the Ministry of Industry, Mines and Trade, and other officials and relevant authorities, as well as enthusiasts and activists of this sector of Iranian industry.
It is noteworthy to note that, 133 domestic companies and 36 foreign companies from 5 countries including: Italy, Germany, Spain, Turkey and China in an exhibition space of 15358 square meters, exposed their products, machinery and services in the field of the production of various types of stone, mines, related machines, embossed and engraved stones, and their latest products.
Based on some visitors and exhibitors' views the Iranian products and services products offered by domestic exhibitors are competitive with the world's largest stone producers and related products and services.
The exhibition that is licensed by the Iran Stone Association and organized by "Roshan Rooz Co." will be opened till July 31st.
2- Liftex 2018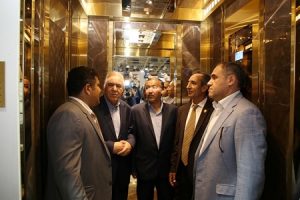 The 7th International Exhibition of Elevators, Escalators, Forklifts, Parts and Equipment, also inaugurated later by the presence of Dr. Esfahbadi, Amir Mokri, Deputy Chairman and Ghobadi the vice CEO in exhibition sector as well as enthusiastic activists of this sector.
At the 7th Iranliftex 135 domestic companies and 42 foreign companies from 9 countries including Italy, Taiwan, Germany, Turkey, Japan, China, Switzerland, Croatia, and South Korea are presenting their products and services in an exhibition area of 25,000 sqm, covering the production of all types of lifts and stair lift cabs, electric control panel and various types of elevator and floor engines and related machinery. The latest products are presented to welcoming visitors till July 31st.
According to some exhibitors, the Iranian made offered products are produced by domestic producers and have been mass-produced without spending foreign currencies.
Italian Ambassador Inaugurates Stone, Mining and Machinery Exhibition