Italians at the Front Line of Iranian Economical Relations
Italians at the Front Line of Iranian Economical Relations
Italians are at the front line of Iranian economical relations with Europe. The assessment is backed up by practical movements seen during last 6 months from the Italian side.
On Monday May 16th, the first edition of the Iran-Italy Summit ended with satisfaction of both sides. The topics covered at the first session included:
Iran and Italy can make the difference in the current global scenario
Banking, insurance and financial systems for effectively expanding bilateral relations
Infrastructures and mobility are the pillars for the most advanced urban development
Iran and Italy can cooperate to build up an efficient and competitive energy and power value chain
Retail, trade, and investment are the platform for Iran – Italy strategic partnership
The limitless heritage of tourism and culture are the foundations of the future
As announced in Nov. 29th 2015 (http://goo.gl/qiGvkD) The Italian "European House – Ambrosetti" was the leader of the Summit held at the presence of " Majid Takht-e Ravanchi " the Iranian Foreign Ministry's Deputy and a known figure in the world for his active participant at the Iranian Nuclear Deal.
Whereas "Machinery & Equipment, Chemical Products and Electrical sectors" are the first three categories of Italian exports to Iran with values of " 522.645.412, 78.415.110 and 51.999.495" Euro in 2014 respectively, the "Plastics & Rubber" sectors have almost kept their 8th place by 19.662.556 Euro in total.
Due to importance of the Summit, the Ambrosetti website has a full coverage of the event and so we invite our readers (if interested to follow) to refer to the so called website.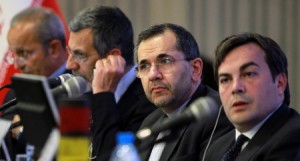 Speaking on the sidelines of the Summit, "Majid Takht-e Ravanchi" said to reporters that:
'We cannot say that the JCPOA has been implemented successfully" and commented: "US government has not properly honored its commitments to Joint Comprehensive Plan of Action"
Explaining about Iran-Italy economic relations, he said: " based on the JCPOA, each side undertook certain commitments". He added:
"The Iranian side has fully implemented its commitments to the nuclear deal verified by the IAEA reports" adding, 'We expect the other side to fully honor its commitments as well.'
He also rebuked the US Administration for failure to respect its undertakings as per the nuclear deal. The sanctions have been removed on the paper, but, what was expected from the nuclear deal cannot actually be observed, he said.
Italians at the Front Line of Iranian Economical Relations