Jam Petrochemical Co. to Satisfy Needs of Domestic Suppliers of Black PE Pipes to Raw Materials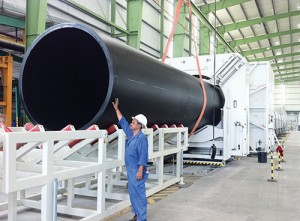 In the forum held by the Board, PE Pipe & Fitting Manufacturers Guild Union, attended by the Managing Director, Jam Petrochemical Co., the recent developments in terms of production of black PE 100 pipes were discussed.
As reported by PR Department of Jam Petrochemical Co., Eng. Hossein Mir Afzali, MD to the said company said: "Upon removal of the sanctions imposed, we have managed to remove the challenges on the production of the catalyst and masterbatch needed in manufacturing black PE 100 pipes, in cooperation with a leading Chinese manufacturer, as a result of which the favorable ground is laid for not only satisfying the domestic needs altogether but to exporting  our surplus.
Now with the blessing of this breakthrough, we are able to meet the raw materials needed by the producers of black PE 100 pipes by concluding long-term contracts and by avoiding imports of these materials. Should the domestic needs require so, we are able to produce, in cooperation with other Iranian petrochemical companies, up to one million tons/year to the full exploitation of the domestically installed output".
In another part of his speech, he added: "We are also in the position of safeguarding the domestic producers' interests by selling the raw materials,  on a contractual basis, to the PE Pipe and Fitting Manufacturers Guild Union.
Indeed, we are ready to feed the domestic market with 300,000 Tons per year of black PE 100 grade and are looking forward to concluding contracts with the Iranian producers of these pipes in a bid to help boost the prosperity by devising financial back-up schemes. With these new developments in the Iranian market, not only imports of raw materials worth US Dollars 1,000,000 are stemmed but favorable ground has been laid for employment in this sector".
Mr. Boyouk Sahaf, MD, PE Pipe & Fitting Manufacturers Guild Union, in his turn, commented: "Domestic need to black PE 100 pipes amounts to 400,000 Tons per year, as we shall not only meet our suppliers' needs but to satisfy the needs of consumers to this item in the Persian Gulf. Jam Petrochemical Company is currently the sole
Iranian supplier of this grade and in case of a close cooperation with our Guild Union, a universally acceptable model will be devised. Enumerating National Iranian Gas Company, Ministry of Jihad Agriculture and Water and Sewage Utility as major customers of black PE  100 pipes, added: "We are looking forward to concluding with Jam Petrochemical Co.
a long-term contract for supply of our raw materials and, given the blessing of such partnership, we are in a position to cover the whole Persian Gulf countries' needs to black PE 100 pipes, because of the premium quality of the grade manufactured by Jam Petrochemical Co. as a major asset".


Jam Petrochemical Co. to Satisfy Needs of Domestic Suppliers of Black PE Pipes to Raw Materials