Krahn Chemie to highlight new products at K 2016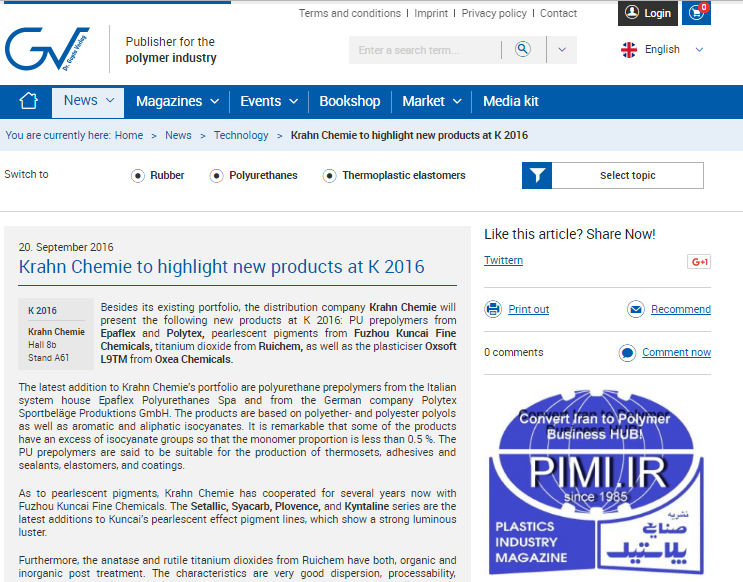 The latest addition to Krahn Chemie's portfolio are polyurethane prepolymers from the Italian system house Epaflex Polyurethanes Spa and from the German company Polytex Sportbeläge Produktions GmbH. The products are based on polyether- and polyester polyols as well as aromatic and aliphatic isocyanates. It is remarkable that some of the products have an excess of isocyanate groups so that the monomer proportion is less than 0.5 %. The PU prepolymers are said to be suitable for the production of thermosets, adhesives and sealants, elastomers, and coatings.
As to pearlescent pigments, Krahn Chemie has cooperated for several years now with Fuzhou Kuncai Fine Chemicals. The Setallic, Syacarb, Plovence, and Kyntaline series are the latest additions to Kuncai's pearlescent effect pigment lines, which show a strong luminous luster.
Furthermore, the anatase and rutile titanium dioxides from Ruichem have both, organic and … .
Read More From The Source


about KRAHN CHEMIE
KRAHN CHEMIE is at home in the world of chemical distribution. For more than 100 years, we have been distributing specialty chemicals to the processing industry in Europe. In our capacity as a long-standing distributing and marketing partner for leading international raw material producers,we offer our customers an extensive, superior product range, technical advice and our own laboratory services.
We focus on the following consumer-oriented industries: paints and coatings, construction chemicals, adhesives, sealants, technical ceramics, plastics, rubber and lubricants.
KRAHN CHEMIE'S headquarters is seated in Hamburg. Together with our subsidiary KRAHN CHEMIE Polska, KRAHN CHEMIE Benelux in the Netherlands and Pietro Carini in Italy, we are there where our customers are: always on site and always nearby.
KRAHN CHEMIE, with our 160 employees, generated a turnover of about 200 million euros in 2015.
Our company is part of the OTTO KRAHN (GmbH & Co.) KG holding which incorporates two operational subsidiaries: KRAHN CHEMIE GmbH and ALBIS PLASTIC GmbH. ALBIS PLASTIC focuses mainly on the distribution and compounding of thermoplastics.
Krahn Chemie to highlight new products at K 2016