OOPS! We are sorry for inconvenience! The news you clicked is for

"Paid Subscribers"
If you are a paid subscriber, please go directly to the "

LOGIN

" at below form, and get-in, and If not, please "

Register using register button

" and help us to improve our services by every penny of your subscriptions.
Subscription Rates:
One Year: 40 Pound Sterling ; 6 Months: 30 Pound Sterling ;

3

 Months: 20 Pound Sterling
(Prices are subjected to change without advance notice, but paid subscribers are not obliged to pay any extra)
The payments should be handled via "Bank Transfers" only.
| | |
| --- | --- |
| Bank Name | Metro Bank |
| Branch Name | Edgware |
| Bank branch address | Edgware, Unit 1, The Mall,Edgware,Middlesex,HA8 7BD,UK |
| Bank Telephone | 020 3402 7720 |
| Business Bank Account Details |   |
| Account Name |  PIMI LTD |
| Account Number |  21372625 |
| Sort Code |  23-05-80 |
| IBAN | GB70MYMB23058021372625 |
| BIC | MYMBGB2L |
Please be informed that: As of Aug. 1st 2017 our esteemed subscribers may be obliged to pay for reading some specific news and some economical analysis about the Iranian economy, polymer industry, petrochemicals and other specialty news at this portal (please Read More).  To do so, please logout, then click the login. According to your present subscription status you may see either of the following pages: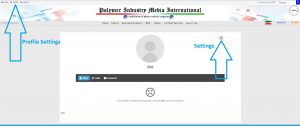 Viewing either pages means that you are obliged to pay your subscription fee to the account introduced here-underneath. After payment, you can fill in the relative form and be among our paid subscribers, when you are allowed to view all parts of this portal, any time round the clock.