Milan to Host 26th World Route Development Forum
Milan, the fashion capital of the world, has been chosen as the host and destination for the 26th World Route Development Forum in 20 20. The major aviation industry event is scheduled to take place on 5-8th September 2020.
After a very competitive selection process, SEA, the group responsible for managing Milano Malpensa and Milano Linate airports, has won the bid for World Routes 2020 on behalf of Milan and the Lombardy region.
World Routes is a unique event that moves from city to city every year to highlight different international aviation markets. It serves as the ultimate event for airlines, airports, tourism officials and suppliers. The three-day gathering grants unprecedented opportunities for senior decision makers to meet face-to-face and discuss the future of air services, develop and plan network strategy and explore new route opportunities
One of Italy's tourist hot spots, Milan is the perfect city to host such an event. One of the most connected and easily accessible cities in the world. The Lombardy region, of which Milan is the capital, is the 3rd most populated region of Europe with 10 million inhabitants and is serviced by three airports – Malpensa, Linate and Orio al Serio. These airports, which welcome over 39 million passengers annually, are gateways to the world and their development is key to Milan's status as a cutting-edge international metropolis.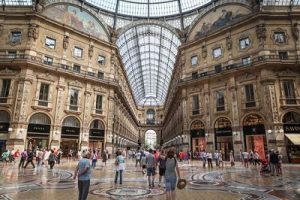 About
Milan
:
Milan
, Italian 
Milano
, city, capital of Milano province (
provincia
) and of the region (
regione
) of 
Lombardy
 (Lombardia), northern 
Italy
. It is the leading financial centre and the most prosperous manufacturing and commercial city of Italy.
he destiny of Milan, like that of many of the world's great cities, remains something of a historical 
paradox
. There are powerful factors supporting the argument that Milan should have become the capital of a unified Italy, and this is the belief of many Milanese, in spite of the fact that the unity of Italy was actually born in 
Turin
, rather than in Milan, in 1870. Milan, nevertheless, is the most industrious and vital city to have achieved prominence since the ancient land of Italy became aware of itself as a modern nation-state. Area city, 70 square miles (182 square km); province, 765 square miles (1,980 square km). Pop. (2001) city, 1,256,211; province, 3,707,210; (2007 est.) city, 1,303,437; province, 3,884,481.
Milan to Host 26th World Route Development Forum