Modern Technologies of Plastics Molding" Conference in St. Petersburg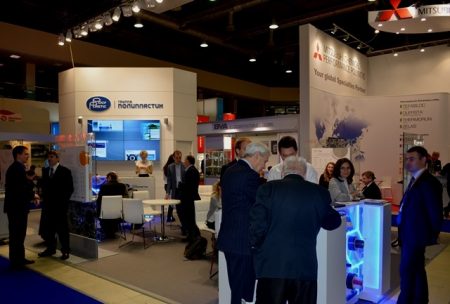 R&P POLYPLASTIC took part in "Modern technologies of plastics molding" Conference. For the 4th time the historical city of St. Petersburg hosted the plastics conference for a day. A short review of the conference is followed here at PIMI.ir:
German equipment and injection molds manufacturers Wittman Battenfeld and Schuelken Form in cooperation with polymer materials testing company SKZ and Education Centre "Profession" held a seminar for leading industry market players. The event took place in St. Petersburg for the 4th time.
More than 60 participants from different Russian regions visited the event. R&P POLYPLASTIC Head of Science and Technology, Mikhail Katsevman, made an opening statement. His report concerned the market fundamentals in the sector of compound thermoplastic materials in Russia highlighting their properties and qualities. "The Russian market today has enough R&P POLYPLASTIC compound thermoplastic materials which may be applied in leading industry sectors", Mr. Katsevman told.
The speaker noted that such events can be very useful by providing more opportunities for communication between direct consumers of compound materials. It is of crucial importance that during such seminars representatives of such companies can directly address equipment manufacturers. After the seminar a round table on important challenges of modern injection molding development in Russia took place.
To be more familiar with the company, we are reviewing one of the materials with multipel uses in auto and hom appliances production, here below.
This material belongs to the polyolefine class (polypropylene), it is the most suitable for subsequent compounding to derive a number of affordable thermoplastic materials with unique mechanical properties. Materials of the ARMLEN line share the advantages of a polypropylene matrix (the lowest density of all plastics, low moisture absorption, affordability, easy to process, chemical resistance) in combination with various functional fillers (fiber glass, mineral fillers, antipyrenes, shock-resistance modifiers, and others). Thus, we can offer our customers ARMLEN brands with a unique set of properties.
R&P POLYPLASTIC specializes in the production of thermoplastic compound materials for processing by pressure, blow and extrusion molding.
R&P POLYPLASTIC increases its production output by 10-12% annually and is the absolute industry leader, boasting a more than 40% share of the Russian market of composite polymer materials for technical purposes.
Working at the intersection of science and business, we are committed to knowledge, we respect the facts and we are completely dedicated to our business.
Sharing the global values of the 21st century, P&P POLYPLASTIC responsibly transforms them into real actions, subordinating its commercial, production and corporate processes to the idea of sustainable development.
Maintaining industry leadership, diversifying production in different areas, supplying high-quality materials conforming to the current trends of the global thermoplastics market.
Modern Technologies of Plastics Molding" Conference in St. Petersburg