NewYear Gathering turned to a protest against IranPlast
NewYear Gathering turned to a protest against IranPlast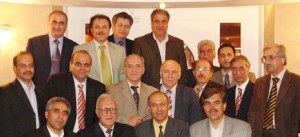 NewYear Gathering turned to a protest against IranPlast : Accustomed during last 10 years, today on 11th April 2016, hundreds of Iranian Plastics Industries Activists gathered at one of Tehran's Restaurants to meet each other after (for some of them almost) a year.
This annual meeting of the active people within this field turned to a protest against IranPlast and all those Iranian and non-Iranian participants of the 10th IP Show.
The audience, one-to-one, one to all and all to one, were seeking kind of a punishment for those who have attended the show. Ban of imprting from non-Iranian participants, ban of purchasing any goods from Iranian participants, keeping the visitors under watch in order to warn them, preventing any news publication, etc. were part of the gatherings' proposals.
IranPlast Exhibition will be held on April 13th-17th 2016 at Tehran's International Fairground area.
The photo shows some of the attendees of 10 years ago at the same ceremony.
Visit Iranplast Here
About Iranplast:
National Petrochemical Company (NPC) the licensee and the organizer of IRANPLAST exhibition, fully supports this event aiming to encourage and assist all non-Iranian companies which already have or wish to make a bilateral partnership with their Iranian counterparts. No wonder, if a non-Iranian exhibitor finds an opportunity to make a partnership with another exhibitor or visitor from another country at the heart of Tehran, Iran.
NewYear Gathering turned to a protest against IranPlast