Printing and Packaging Quality Assurance for Today and Tomorrow
BST eltromat's iPQ-Center reflects developments in the production-quality requirements placed on the printing and packaging industry.
Bielefeld, July 11, 2018 – BST eltromat International's iPQ-Center offers flexo and gravure printing companies comprehensive ways of controlling and assuring their production quality. The history of the modular solution suite reflects the dynamism with which quality requirements in the packaging industry have developed over the decades. It also documents how BST eltromat is proactively driving this development forward. At the same time, a glance at the history of the iPQ-Center allows conclusions to be drawn for further development in the age of Industry 4.0.
"We entered the quality assurance systems market as a manufacturer at a time when web guiding technology was increasingly going electronic," says BST eltromat's Head of Product Development for Web Handling Jürgen Bettführ. He is referring to the year 1979, when BST Servo-Technik GmbH was founded in Bielefeld, Germany. In the same year, the company introduced an innovative web guiding system with infrared edge sensors (IR1 and IR2) to the market, as well as the EKR 1 analog compact controller. Webs could now be guided through printing machines with previously unheard-of quality. Henceforth an important quality feature – particularly when it comes to package printing.
The ekr 2000 multifunction controller moved the boundaries
By the time the 1990 drupa exhibition took place, BST had pioneered the use of digital, rather than analog, technology for components in its web guiding systems, and it introduced the ekr 2000 multifunction controller at the event. Back then, the turn of the millennium still seemed a long way off. Even the product name featuring the number 2000 signaled groundbreaking technology. And indeed, the technology made quite an impression in the market.
The ekr 2000 system was thus the world's first microprocessor-controlled control amplifier for web guiding systems based on web edges and print features. For most jobs, it was enough to press two buttons and the system was set – this was a revolution in the advancement of user friendliness. The new membrane keypads, which featured keys with colored outlines for various operating levels made it easier to set up the web guiding system and to access the operating functions. In addition, the system featured an innovative, integrated digital display. The user interface was clearer and more intuitive than ever. BST eltromat controllers still work according to a similar principle today, which illustrates how technical advances made back then still influence the way we work now.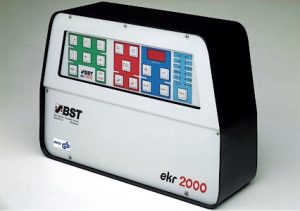 The possibility of controlling on the basis of print features – either lines or contrasts – as well as web edges, made web guiding systems more flexible than ever. The new controller also offered an increased level of automation. It also offered features such as automated material comparison for transparent film, including contamination compensation, automated edge seeking, and width adjustment. An automatic sensor adjustment feature could also be connected via fieldbus. The sensors automatically adjusted to changing web widths. Web width checking was also an integrated feature.
Thanks to its interfaces and the integrated fieldbus with plug & play characteristics, the ekr 2000 was easy to integrate into machine control systems. The module-based hardware and software was flexible and could be adjusted to customer requirements. Automation, integration, and an ability to respond to individual requirements flexibly – three of the criteria that customers now focus on when making an investment decision – began to take off.
Soon, the industries were no longer happy with merely perfectly regulating a web's passage through printing machines. New technology now also offered control over the (printing) quality of running webs. In the early 1980s, BST introduced 'Rota-speed,' a monitoring system it had developed for running webs. It was followed in 1986 by the innovative mirror drum system Webscope. This system had a mirror drum with 20 faces, which enabled it to conduct optomechanical web monitoring in printing machines with an unprecedented level of reliability. By 1987/88, BST had already developed another device, 'Videoscope,' which was based on state-of-the-art video technology with high-definition cameras and high-quality lenses. The strong magnification capability introduced the possibility of detailed monitoring. Printing companies that used both Webscope and Videoscope were able to better utilize the productivity of their printing machines by using the latest information about their print images. Machine operators were also well-placed to reduce waste: If there was a defect, they could now intervene straight away – while printing was taking place – which back then was by no means the norm.
100% Inspection with Nota Save
At almost the same time and just a few kilometers from Bielefeld, eltromat, which was founded in 1960, was working in Leopoldshöhe on the development of a 100% inspection system. This was after register control systems had already established themselves worldwide. "Nota Save was a system for 100% inspection in security printing. Developed jointly with KBA, Nota Save was used in that company's sheet-fed printing machines for inspecting bank notes from 1995 onwards," recalls Dirk Völlmecke, Head of Product Development for Vision Systems at BST eltromat.
The system fulfilled the special requirements of security printing; it carried out reliable checks of the security features printed on the bank notes and identified printing defects and deviations from targets. In short, Nota Save made sure that security printing jobs were produced to the required quality standards. To achieve this, they used a special technology that was developed in Leopoldshöhe. The image data gathered from the sophisticated process of security printing was processed on internally developed hardware plug-in cards and subsequently analyzed. Europe, USA, Asia, Australia – KBA printing machines featuring Nota Save inspection systems were in use around the world.
Nota Save later became PrintCheck, a system for inspecting flexible packaging. Nota Save was designed for sheet-feed printing. As a result, the development of PrintCheck involved a radical rethink. After all, the challenge was to capture high-quality, stationary images from fast-moving webs. In turn, this led, by 2010, to the development of the twin_check inspection system, which combined web monitoring with 100% inspection. The development focus increasingly shifted from hardware to software.
While eltromat was developing the 100% inspection and video systems, BST was developing similar systems at the same time. One example is the VIDEOCheck system, which BST started selling in 1998. VIDEOCheck made it possible to automatically and reliably identify a variety of printing defects – such as ink splashes, streaks, ink mist, register deviations and color variations – in various web printing manufacturing. The performance of quality-assurance systems for flexo and gravure printing had undergone another quantum leap. Until now, however, they have existed in isolation.
Read more from the "SOURCE"
Printing and Packaging Quality Assurance for Today and Tomorrow