Production of PE Based Anti-Corrosives Begins in Russia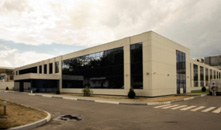 The "Poliplastik Group" has mastered industrial production of polyethylene Torlen PE-2K and adhesive Armobond PE-2K for an anti-corrosive covering of steel pipes of big diameter. Since the beginning of year within the project over 500 tons of finished goods for the total amount more than USD700 thousands have been shipped.
Specialists of Poliplastik Group have developed compositions on the basis of the Russian raw materials which allow to replace the import analogs delivered for isolation of steel pipes main oil and gas pipelines.
Use of domestic raw materials allows to reduce the cost of a covering and to reduce high dependence of the enterprises of fuel and energy complex on import power technologies and the equipment.
—-
Torlen – engineering plastic on the basis of polyethylene, possesses high physical and mechanical properties, high resistance to cracking. It is UF- and the thermos-stabilized composition resistant to the main environments with high corrosive activity.
Armobond – adhesive. Are characteristic of him: high adhesive properties to epoxy primers, high physical and mechanical properties, high adhesion at temperatures to + 80C, the high water resistance of adhesion and resistance to cathodic flaking.
*********************************
About "Polyplastik Group"
The story of the POLYPLASTIC Group began back in 1991. The 1990s were the years when Russia's industry was being severely damaged by a financial crisis. POLYPLASTIC was one of the companies that managed to survive that volatile situation, maintaining its level of production and subsequently becoming a top-rated plastics processing company.
Today, the POLYPLASTIC Group comprises twelve plastics processing enterprises (located in Russia, Belarus, Ukraine and Kazakhstan), two Research and Development (R&D) centres, as well as a number of joint ventures and trading houses. The company is staffed by a workforce of more than 5,000 employees, and annually produces thermoplastic composites, polyethylene pipe systems and fittings in excess of 290 kilo-tonnes.
POLYPLASTIC's compounding business has played an important role in the company's development. The demand for engineering thermoplastics in Russia created a solid base for the expansion of the company into the production of composite materials. While actively participating in the development of the engineering thermoplastics market, the POLYPLASTIC Group substantially expanded and enhanced its compounding facilities — a move which increased the company's overall compounding capacity to approximately 70 kilo-tonnes annually.
********************************
News Edited and Wired By:
PIMI Russian News Correspondent

Olga Prodovskaya
Journalist, former Editor-in-chief of Plastics Magazine, Russia
***********************************************************
Release Date 26 April 2016
Production of PE Based Anti-Corrosives Begins in Russia