Production of Special PolyCarbonate in Cherkessk
Production of Special PolyCarbonate in Cherkessk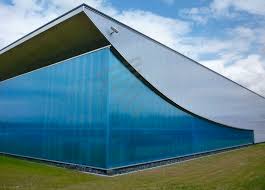 According to PIMI correspondent in Russia, production of a new type of "PolyCarbonate" has started in Cherkessk/Russia. This new production is kind of a Monolithic Polycarbonate with 600 microns thickness.

"YUG-Oil-Plast" LLC, has reported about the beginning of production of Monolithic Polycarbonate sheets with 600 microns thickness. According to the statement of the company, this innovative production is the only such production in the world.
The "Yug-Oil-Plast" company is engaged in production of diverse cellular and Monolithic Polycarbonate over 10 years. On output "Yug-oil-Plast" occupies more than 60% of the Russian market.
This special kind of Cellular PC is used for sheets mostly used in building construction for more energy saving, higher efficiency and lighter wights.
 ************************************
 About "YUG-Oil-Plast"
"YUG-Oil-Plast" LLC, located in Cherkessk in the Republic Karachay-Cherkessia, was founded in 2005. The enterprise makes cellular polycarbonate, polycarbonate panels, foam polypropylene, plexiglas, monolithic polycarbonate, cellular polypropylene, polycarbonate profiles and other types of products. Production has certificates of GOST and ISO on each type of production.
******************************************
News Edited and Wired By:
PIMI Russian News Correspondent

Olga Prudovskaya
Journalist, former Editor-in-chief of Plastics Magazine, Russia
***********************************************************
Release Date 28 April 2016
Production of Special PolyCarbonate in Cherkessk