Royal DSM Signs Material Supply Agreement with Toyota Motorsport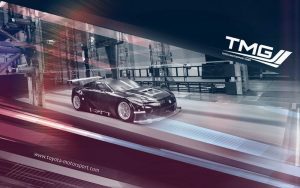 According to news published worldwide the Dutch chemical giant "DSM has signed an agreement with Toyota Motorsport company (TMG) located in Germany. Based on this agreement "DSM" will supply some key materials that this company needs. The news says:
Royal DSM has signed a technology partnership agreement with Toyota Motorsport GmbH (TMG), for the supply of materials, including engineering plastics and 3D printing.
Under the non-exclusive agreement, DSM will have the opportunity to act as TMG's preferred material and product provider.
TMG said an Nov. 7 statement from DSM that the materials company will develop and pilot new engineering solutions using DSM high performance materials and products for potential application in the automotive industry.
The company will also test and evaluate DSM products and act as a test user for defined projects.
The scope of the partnership will involve all DSM businesses active in supplying materials and technology to the automotive sector, including engineering plastics, Dyneema (ultra high molecular weight polyethylene fiber), 3D printing, including Somos for stereolithography (SLA), and other technologies like fused filament fabrication (FFF).
TMG, a wholly-owned subsidiary of the Toyota Motor Corp., is a high-performance development, testing and manufacturing company, offering a wide range of technical services. It is involved in a number of motorsport disciplines.
One of its specialty areas is in the manufacture of products by additive manufacturing both for motorsport use and for external customers.
You can read more news at "This Link"
About TMG:
TMG is a unique high-performance testing and development facility located in the centre of Europe; in Cologne, Germany.
Specialising in high technology, TMG is a wholly-owned subsidiary of the Toyota Motor Corporation and offers its services to external clients as well as members of the Toyota family.
Constructed to the highest standards with no compromise on quality or functionality, the spacious 30,000m² facility and its highly-skilled staff of around 250 offer a remarkable range of machines, facilities and expertise.
From its roots at the pinnacle of world motorsport, TMG has developed into a one-stop shop for specialised services, not just from the automotive world but from most sectors.
We offer individually-tailored solutions to enhance your next project, from full project fulfilment to specific services – all under one roof at TMG.
Check out our varied solutions using the navigation bar above. Inside each section you will find a detailed description of our services, including the specifications of our specialist technology.
Royal DSM Signs Material Supply Agreement with Toyota Motorsport