Single Forex Lower Banking rates a Preisential order
Single Forex Lower Banking rates a Preisential order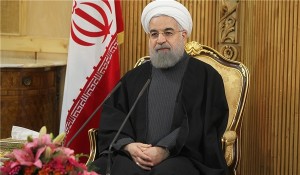 "Forex rate must be unified next [calendar] year (starting March 21) so that stability in the market will be bolstered and corruption will be stopped," Rouhani told a banking forum on Saturday.
He stressed the necessity of cutting lending interest rates, saying: "After the administration curbs inflation and [cuts it to] a single-digit rate, high banking interest rate would be incorrect and will harm the economy."
Rouhani said Iranian banks have to step up their efforts in favor of national economy now that international sanctions have been lifted on Iran. Interest rates offered by Iranian banks are set at 20% for long-term deposits and at lower floating rates for short-term accounts.
Iran's national currency, the rial, has been traditionally traded at two rates one being traded by CBI and the other one set by money changers.
On Saturday, the US dollar traded for IRR 30,180 at official rate and for IRR 35,060 on open market.
Read More from the News Source
About Hasan Rouhani:
Hassan Rouhani ; born Hassan Fereydoun on 12 November 1948) is the seventh President of Iran and has been in office since 2013. He is also a former lawmaker, academic and former diplomat. He has been a member of Iran's Assembly of Experts since 1999,member of the Expediency Council since 1991, member of the Supreme National Security Council since 1989.
Rouhani was deputy speaker of the fourth and fifth terms of the Parliament of Iran (Majlis) and Secretary of the Supreme National Security Council from 1989 to 2005. In the latter capacity, he was the country's top negotiator with the EU three, UK, France, and Germany, on nuclear technology in Iran, and has also served as a Shi'ite ijtihadi cleric, and economic trade negotiator. He has expressed official support for upholding the rights of ethnic and religious minorities. In 2013, he appointed former industries minister Eshaq Jahangiri as his first vice-president.
On 7 May 2013, Rouhani registered for the presidential election that was held on 14 June 2013. He said that, if elected, he would prepare a "civil rights charter", restore the economy and improve rocky relations with Western nations. Rouhani is frequently described as a moderate. He was elected as President of Iran on 15 June, defeating Tehran mayor Mohammad Bagher Ghalibaf and four other candidates. He took office on 3 August 2013. In 2013, TIME magazine named him ninth of its list of the Most Influential People in the World. In domestic policy, he encourages personal freedom and free access to information, has improved women's rights by appointing female foreign ministry spokespeople, and has been described as a centrist and reformist who has improved Iran's diplomatic relations with other countries through exchanging conciliatory letters.
Single Forex Lower Banking rates a Preisential order