The 11th Period of IsfahanPlast Will be Held in Winter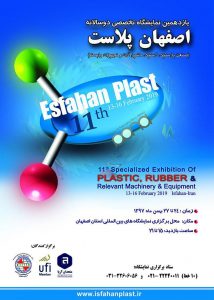 The organizer of the biennial exhibition of IsfahanPlast unveiled the poster of the exhibition.
The 11th edition of the exhibition of plastics, rubber, machinery and equipment, known as IsfahanPlast, will be held from February 13 to 16, 2019 at the exhibition premises of Isfahan.
The venue for this exhibition is the venue for the International Exhibitions of Isfahan Province, and the visiting hours are 15 to 21st, which is a bit questionable due to the winter time.
IsfahanPlast, that is the oldest domestic exhibitions in the plastics and rubber industries in Iran, is sponsored by the Aria Alliance Group. The exhibition was originally scheduled to take place in the summer, but for some reasons, it was shifted to the winter time for this year. Is it now a matter of whether TehranPlast will be third in rumors in spring, or …?
General Information:
Founded in 1993, Isfahan Province International Exhibition Co. (IPIECo) has been a leading venue owner and exhibition organizer in central part of Iran. Being one of the first established exhibition companies in the country, IPIECO has focused on three major activities since its inception:
Organization of domestic and international exhibitions in Isfahan
Organization of Iran pavilions in overseas trade fairs
Organization of trade delegations to visit world's renowned events
IPIECO has a record number of organizing 45 events annually in its three hall venue measuring 8,000 square meters and organizing Iran pavilions at trade fairs held in France, Belgium, Panama, India, Saudi Arabia, Turkey, Malaysia, Oman, Hungary, China, Qatar, Turkmenistan, Indonesia and UAE.
Isfahan unique geographical, economic and cultural status in the country, skilled and dynamic staff, commitment to meet clients' needs and service excellence all have enhanced the company's success.
Limited venue space followed by exhibitors' number increase initiated company's physical space expansion. Therefore Isfahan new permanent venue project kicked off to provide a fully equipped modern fairground boasting 70,000 square meters of exhibition space.
Becoming a UFI member in 2013, IPIECO is committed to take further steps ahead to increase its share of international markets and host more exhibitors, visitors and country pavilions in its annual events.
How access to the exhibition?
Isfahan current fairground is virtually located in the eastern part of the city on the Zayandeh Rood river bank next to one of the city's oldest and famous bridges known as Pole Shahrestan (Shahrestan Bridge). Since the majority of hotels are situated in the center of the city, it will take about 10 minutes to drive from any hotel to Isfahan fairground. For the rush hours, it would take about 30 minutes. Isfahan fairground is 36 kilometers from the city airport and 27 kilometers from the train station.
The 11th Period of IsfahanPlast Will be Held in Winter