A Thermoformer Chooses Bandera for its First Extrusion Line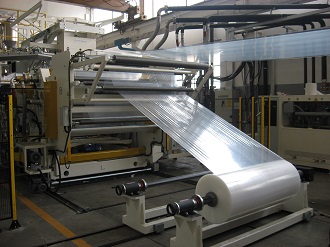 In particular, the line will be dedicated to the production of rigid PET film for food packaging, with thicknesses ranging from 150 μm to 1500 μm, and of PP packaging barrier film, with thicknesses ranging from 350 μm to 1600 μm.
The line features a net width of 1050 mm and reaches a maximum output of 1200 kg/h when processing PET. It is equipped with a 4 components gravimetric loss-in-weight loading and dosing system, an 82 mm 2C twin screw extruder (L/D = 52) with strong vent system, superfiltration screen changer, and back-flush self-cleaning technology, a 65 mm Tr single screw co-extruder (L/D = 35) with loading and dosing system, and double-plate screen changer for the single screw extruder. The flat die is complete with an internal deckling system. The downstream section includes a horizontal polishing and cooling calender, an in line barrier film lamination unit, a haul-off and silicone coating device for PET film, a grinding unit for the recovery of edge trims, a winding system with trolleys and a control panel.
Bandera of Italy is the manufacturer of this specific line.
This news and the relevant photo is collected from "Macplasonline" newsletter published on Wed. July 13th, 2016.
Related News:
A Thermoformer Chooses Bandera for its First Extrusion Line