Total Corbion PLA Highlights PLA Bioplastics for Demanding Applications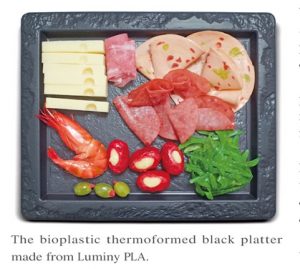 Going down to a safer planet, "Total Corbion PLA" is exhibiting at the show with a number of partner applications based on its Luminy PLA (Poly Lactic Acid) resins. Visitors can learn more about how they can make the switch to biobased PLA plastic.
The Luminy PLA portfolio includes both high heat and standard PLA grades and is used in a wide range of markets from packaging to durable consumer goods and electronics.
PLA is a biobased and biodegradable polymer made from annually renewable resources, offering a reduced carbon
footprint versus many traditional plastics.
To demonstrate the innovative high heat capabilities of Luminy PLA, visitors are welcome to enjoy a fresh cup of coffee at the company's booth, brewed from a PLA coffee capsule and served in a PLA cup.
Also on display is a bioplastic thermoformed black platter (Image) developed by The bioplastic thermoformed black platter made from Luminy PLA.
Pack & Proper for attractive presentation of foods such as cheese, sushi and hors d'oeuvres. It is made from Luminy PLA and has been designed to exhibit a 'stone-look', slate appearance thanks to its surface shape which gives a more exclusive appearance to a disposable application.
Other examples of innovative PLA applications on display include PLA injection molded speaker housings by Os-Tech and Usher, PLA toys by GRABIO, DJ Toys and Genius Toy Taiwan, PLA-lined paper cups from Totempak, single-use PLA aprons from Gaia, PLA coffee cup lids from WinGram, PLA tea bags from Nonwoven Network, PLA coffee capsules from Guanghe, thermoformed PLA packaging from Bio4Pack, foamed PLA ice cream packaging from
Synbra, PLA ISBM bottles from Gaojieli, PLA non-woven applications from Yangtze, injection molded PLA tableware from COFCO and serviceware from Heersi and PLA toothbrushes from PolyAlloy.
Total Corbion PLA is on track to start up its new 75 kTpa PLA production plant in Rayong, Thailand in the second half of 2018. The plant will produce a broad portfolio of Luminy PLA neat resins: from standard PLA to innovative, high heat resistant PLA, including specially developed products for extrusion/thermoforming, injection molding and fiber spinning.
Total Corbion PLA, headquartered in the Netherlands, is a 50/50 joint venture between Total and Corbion.
Total Corbion PLA Highlights PLA Bioplastics for Demanding Applications