The German Pioneers & Innovators 
Letter

"

H

"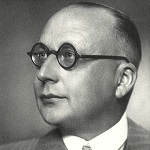 HUMMEL (DR. ERICH)  1893 – 1984: Meticulousness and a passion 
for law: Dr. Erich Hummel
DR. Erich Hummel, uses his extensive legal knowledge to establish the company on a solid footing.
After leaving school, the pastor's son completes a commercial apprenticeship in Hamburg. The highly decorated officer has to wait until the end of the First World War before beginning his law studies, and obtains a doctorate with distinction in 1923. A short time later, he moves into industry and quickly establishes a career. His prudence, his correctness, and his ability to think through complex issues right down to the very last detail make a major contribution to the positive development of Filterwerk Mann + Hummel.
Letter

"

M

"
Mann (Adolf) 1890 – 1970: The philosopher in the executive chair: Adolf Mann
ADOLF MANN, gifted student, math teacher, front-line soldier, entrepreneur – and humanist.
Having come from humble beginnings and with a broad philological education from the Tübinger Stift, Adolf Mann combines entrepreneurial vision and drive with profoundly humanist values. These principles lead him not only to introduce numerous worker-friendly initiatives in his company, but also to play an active role in discourse about sociopolitical policy issues in the young Federal Republic through a series of publications and lectures. His integrity and ethics of responsibility still define MANN+HUMMEL today.