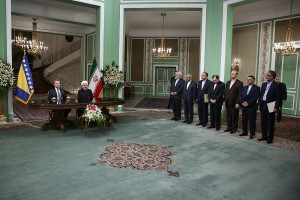 A fresh round of negotiations for sales and crude and oil products to Bosnia and Herzegovina will kick off in time with Izetbegovic's arrival in Tehran.
Diversifying of crude export markets in the post-JCPOA era remains as a key policy pursued by Iran and the Eastern Bloc countries as an emerging market for the Iranian oil.
Over the first ten months following implementation of the Joint Comprehensive Plan of Action (JCPOA), Iran began shipment of oil and condensate cargos to countries like Hungary, Poland or Romania within spot contracts.
Accordingly, Bosnia and Herzegovina is considered as a newly-emerged market for the Iranian product as negotiations have kicked off between National Iranian Oil Company (NIOC) and Russia's Zarubezhneft over exports of crude oil to the European state.
In time with the arrival in Tehran of Chairman of Bosnia and Herzegovina Presidential Council Bakir Izetbegovic and a number of cabinet members of Sarajevo, a new round of talks will be launched today over exports of crude oil, as well as oil and petrochemical products.
Speaking on the sidelines of an MoU signing ceremony with Russia's Zarubezhneft's, NIOC Managing Director Ali Kardor recently announced that the Russian firm owns a refinery complex in Bosnia and talks are being conducted to supply oil to the European refiner.
In addition to Bosnia, a number of East bloc countries such as Belarus, Croatia, Serbia and Lithuania have held talks during the past few months to import crude oil and petrochemical products from Iran.
Source: mehrnews.com