The automotive industry is a dynamically growing market for plastics: In addition to the global stock of already more than 1.2 billion vehicles, more than 90 million units are added every year.
The market research company Ceresana analyzed this application area in particular: Global demand of the automotive industry for plastics amounts to more than 15 million tons per year.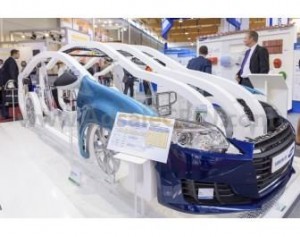 The new report analyzed the market for automotive plastics as a whole and the demand for individual types of plastics. The segments seats and upholstery, interior trim, dashboard, bumpers and lighting, exterior trim, under the hood and fuel system, electric and electronics, and others are differentiated.
In 2015, the segment under the hood and fuel system was the most important application area with a demand of around 2.6 million tons of plastics. Demand for exterior trim is especially likely to grow further: at rates of presumably 4.5% per year.
The most commonly used plastic in automobiles is polypropylene (PP): This type accounts for about 28% of total demand. In the past eight years, demand for PP in the automotive industry increased by, on average, 3.1% per year. About one third of the PP consumed in the production of vehicles is used by the segment bumpers and lighting.
The polyethylene (PE) types HDPE, LDPE, and LLDPE are used in vehicles mainly under the hood and for fuel systems. This segment accounts for about 45% of demand with HDPE being the dominant product type. Demand for PE amounts to almost 3 million tons which is slightly more than demand volume of polyurethane (PU). Demand for PU increased by 3.6% per year since 2007, especially for the segment seats and upholstery.
Source : China Plastic & Rubber Journal