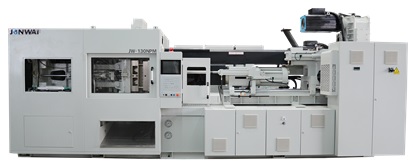 By participating at the 12th IranPlast international exhibition, the Taiwanese injection moulding machine manufacturer –JONWAI– will show its abilities in manufacturing the IMM machines, series SEW Injection Machine which creates disruptive technology. The JONWAI's stand is at: Hall 38, F13.
JONWAI's plastics injection molding machine has reached another milestone on technical breakthrough. The SEW series are the upgraded version of wide platen Injection molding machine. With the extra wide platen and tie bar space in design, mold loading capacity increased about 20 to 25%. For instance, a 32 cavities bottle caps mold would originally be loaded on a 220 tons machines while with the introduction of SEW, the same mold could be placed in a 120 tons machine. It enlarged the value of production by upgrading the machine capacity for larger and wider platen under the same investment. SEW series machine is suitable for machining houseware, bottle caps, pens, and automobile components.
Electrical Charging System
The other initiative of JONWAI is the upgrade of the traditional hydraulic motor system, which now embedded electrical motor behind the screw and connected to the gearbox. An Indian customer did some comparison on its shop floor. The electric charging system was applied on one 1750 tons machine that produces 120L/7.5kg bins. The original cycle time for producing one bin was 155 seconds, but decreased to 110 seconds/ product after the new system come into effect. It could produce almost 200 more products everyday whilst saving 52% energy consumption – equivalent to 500 thousand NTD saving per month. It only took the client 6 months to start profiting from the cost they invested in this electrical charging system.
JONWAI has increased its cooperation with the African region clients in particular Nigeria and Ghana in fields of furniture, packaging production. Even the power supply and environment are not stable, Jon Wai's machine still can run in the tough environment.  Now the houseware, furniture and food packaging items are booming in Africa market.
This year JONWAI is speeding up its innovation on high speed PET preform injection molding machine. During Chinaplas this year, they exhibited a 130NPM machine that produces 12.6g bottles with 32 cavities mold running with cooling robots – the entire cycle time is less than 10 seconds. JONWAI's inventions like this keep impressing the industry. They have been following the trend coming from end-users to invest the machine for high-quality lighter and thinner products with high power efficiency.
Information for IranPlast Visitors
Companys name: Jonwai Machinery Works Co., Ltd
Booth No.:  Hall 38-F13
Keyperson: Harrison Chen
Title: Sales Manager
Tel: +886 927-661-208
Email: harrison.chen@jonwai.com.tw
Website: www.jonwai.com
************************
Why Should Be "A Paid-Subscriber"?
Keeping an independent media in countries that impose limitations on self supporting media, will help to support the humankind's freedom. If you believe it, please act to be a PRO-MEMBER by clicking "HERE", or:

Please send your PR's directly to my email address to be published in the world via " https://pimi.ir " my address is: aasaatnia@live.com