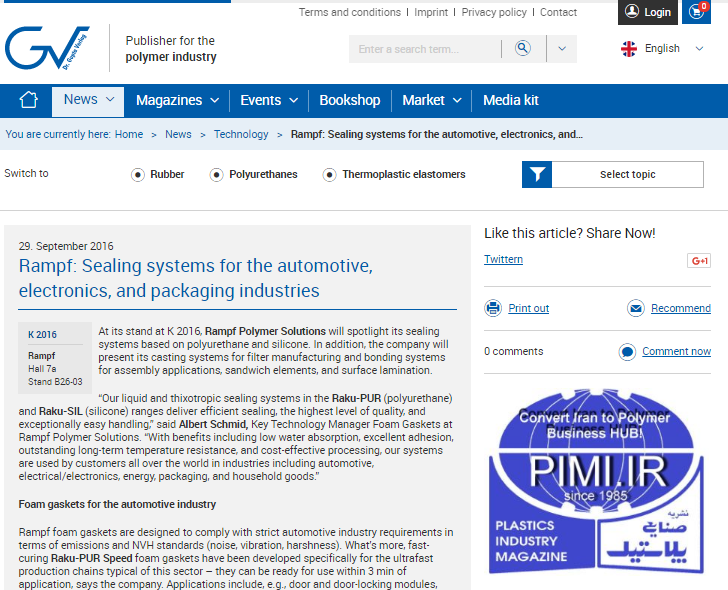 At its stand at K 2016, Rampf Polymer Solutions will spotlight its sealing systems based on polyurethane and silicone. In addition, the company will present its casting systems for filter manufacturing and bonding systems for assembly applications, sandwich elements, and surface lamination.
"Our liquid and thixotropic sealing systems in the Raku-PUR (polyurethane) and Raku-SIL (silicone) ranges deliver efficient sealing, the highest level of quality, and exceptionally easy handling," said Albert Schmid, Key Technology Manager Foam Gaskets at Rampf Polymer Solutions. "With benefits including low water absorption, excellent adhesion, outstanding long-term temperature resistance, and cost-effective processing, our systems are used by customers all over the world in industries including automotive, electrical/electronics, energy, packaging, and household goods."
Foam gaskets for the automotive industry
Rampf foam gaskets are designed to comply with strict automotive industry requirements in terms of emissions and NVH standards (noise, vibration, harshness). What's more, fast-curing Raku-PUR Speed foam gaskets have been developed specifically for the ultrafast production chains typical of this sector – they can be ready for use within 3 min of application, says the company. Applications include, e.g., door and door-locking modules, brake lights, headlights, taillights, electrical enclosures, ignition coil covers, fuse boxes, and ventilation grills.
Foam gaskets for the electrical/electronics industry
The foam gaskets, which can be applied two and three dimensionally, meet all the requirements for flame-retardant materials to UL 94 (HF-1, HF-2, HBF). Many sealing systems in the Rampf portfolio also comply with the UL 50 and UL 50E test specifications for control cabinets and other electronics enclosures. Applications include, e.g., control cabinets, industrial lighting, LED modules, operating equipment, electrical enclosures, housing covers, and solar inverters.
Foam gaskets for the packaging industry
In the food and drinks industry, liquid foam gaskets with EU food packaging approval deliver effective and reliable protection. In chemical and pharmaceutical applications, they help protect against aggressive media and extreme temperatures, and … . 
Read More From The Source