Songwon and Heraeus jointly develop speciality chemicals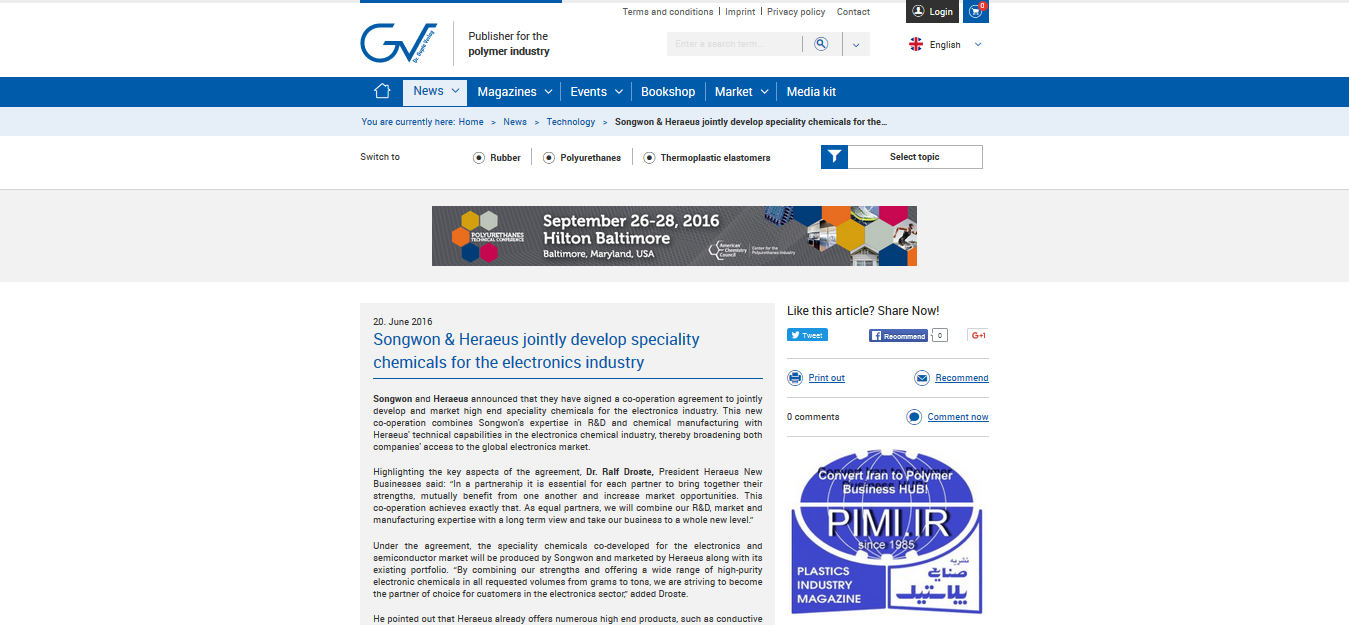 Songwon and Heraeus jointly develop speciality chemicals
Songwon & Heraeus jointly develop speciality chemicals for the electronics industry
Songwon and Heraeus announced that they have signed a co-operation agreement to jointly develop and market high end speciality chemicals for the electronics industry. This new co-operation combines Songwon's expertise in R&D and chemical manufacturing with Heraeus' technical capabilities in the electronics chemical industry, thereby broadening both companies' access to the global electronics market.
Highlighting the key aspects of the agreement, Dr. Ralf Droste, President Heraeus New Businesses said: "In a partnership it is essential for each partner to bring together their strengths, mutually benefit from one another and increase market opportunities. This co-operation achieves exactly that. As equal partners, we will combine our R&D, market and manufacturing expertise with a long term view and take our business to a whole new level."
Under the agreement, the speciality chemicals co-developed for …
Read More Here
Visit Songwon
Visiti Heraeus
About Songwon:
Founded in December, 1965, Songwon Industrial Co., Ltd. has grown from being the only plastic additives manufacturer in Korea to a key global player in specialty chemicals. The company has over 788 employees and comprises:
Headquarters in Ulsan, Korea
16 companies including 2 joint ventures and 2 representative offices, located in 10 different countries and 3 continents.
10 manufacturing facilities, 3 of which are located in Korea, and the others in Germany, China, USA, India, UAE as well as 2 manufacturing JV plants in China, one of which is currently under construction.
A worldwide network of sales offices, distributors, customer service and logistic hubs and warehouses.
Songwon Industrial Co.Ltd is listed on the Korea stock exchange, Seoul (KRX), with a registered turnover of 556 Million US$ (654 Billion KRW) in 2015.