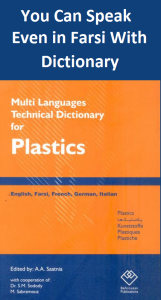 5 Languages Dictionary + Pronunciation in Farsi
The 5 languages dictionary, edited with careful verification of several sources, is a unique dictionary in the polymer world which has a pronunciation additional booklet.
This unique booklet, helps the user to pronounce about 1500 technical and scientific words that are mostly used in the business conversations in the Farsi (Persian) language.
The main Dictionary is in 5 languages: English, French, German, Italian and Persian. Each word has its unique code and so it is very easy for the user to check his own language to find its translation in other 4 languages.
The Dictionary has 5 separate indexes for each language, so finding a word is as easy as going through several pages of each main language, find the code number and go to find other compatible words in other languages.
The price for the pack of two printed books are is follow:
Printed Version = £ 35.00 + £ 12.50 for P&P (Less 10.00 if you are a paid subscriber for this website)
Digital Version = £ 35.00 + £ 8.00 P&P + £ 3.00 Insurance (Less 10.00 if you are a paid subscriber for this website)
If you need this unique Dictionary please:
1- Send an email from your company official email (to: aasaatnia@live.com) with your full name and company website URL, and we will send you our credit card number;
2- Send a fax to us to the number +44 845 872 6661 by notification (to NN&SS/PIMI) and you will receive the card number and other instructions.
3- Pay the remittance to the following bank account and a coy of payment to: aasaatnia@live.com
| | |
| --- | --- |
| Bank Name |  Metro Bank |
| Branch Name | Edgware |
| Bank branch address | Edgware, Unit 1, The Mall,Edgware,Middlesex,HA8 7BD,UK |
| Bank Telephone | 020 3402 7720 |
| Business Bank Account Details | |
| Account Name |  PIMI LTD |
| Account Number |  21372625 |
| Sort Code |  23-05-80 |
| IBAN | GB70MYMB23058021372625 |
| BIC | MYMBGB2L |
************************
Why Should Be "A Paid-Subscriber" and "Advertiser"
Keeping an independent media in countries that impose limitations on self supporting media, will help to support the humankind's freedom. If you believe it, please act to be a PRO-MEMBER by clicking "HERE", or:

Please send your PR's directly to my email address to be published in the world via " https://pimi.ir " my address is: aasaatnia@live.com