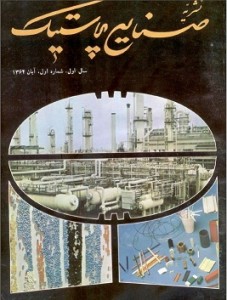 The portal is another publication of "SAATNIA Publishing Group" (SAAPG). This group established in 1980's aiming development of science and technology of polymers in Iran in cooperation with international media and associations. The main financial support of the group were a chain of producing and trading companies which all were founded by Dr. Ahmad Ali Saatnia, being educated and expert in Chemistry; Chemical Engineering, Polymer Science and Technology. During late 80's and early 90's. he was also doing PhD studies in Sociology. The outcome was only a very interesting book about the Iranian behaviour.
Apart from some technical books edited and/or translated by Dr. Saatnia (at the time a postgraduate of University of Aston in Birmingham (UK), the first and the only media of its kind was created by Dr. Saatnia under the title of "Plastics Industry Magazine= PIM" on Dec. 1st., 1985. Since then till now (Sept. 2015) 320 issues of PIM have been published continuously, and gained a large support all over the Iranian industrialists within the field.
As soon as internet was accessible via land lines and hand dialing phone services, the SAAPG decided to be one of the pioneers in working with this new communication giant. Starting with http://www.pime-iran.net" registered in Canada we joined the world via internet.
However after a while, the Canadian Government decided to ban several services to Iran and so we were cut down. However, "Efforts to be the First and the Best" has always been a slogan and a motive at the group.

UK Office: Central London:
PIMI Ltd. Co. UK
Berkeley Square House, Berkeley Square,
Mayfair, London W1J 6BD, U.K.
Tel: +44 (0) 845 872 6660 / 345 872 6660
Fax: +44 (0) 845 872 6661
email: p.saatnia@pimi.ir
Italian Office (Sole Agent)
SEINT srl 
Add: Centro Direzionale Milanofiori
Strada 1 – Palazzo F1
20090 Assago (Milano), Italy
Tel. +39 02 8253326
Fax +39 02 8255019
e.mail:seint@seint.com
Iran Office: Central Tehran
Add: Unit#303, No. 42, Khashayar Tower,
Baradaran Sharifee Ave., N. Gandhi Ave.,
Theran, Iran.
Tel: (+98-21) 8877 2251 / 8877 0791/ 8878 2567
Fax: (+98-21) 887 2760
email:info@pimi.ir