Conferences on the injection-blow molding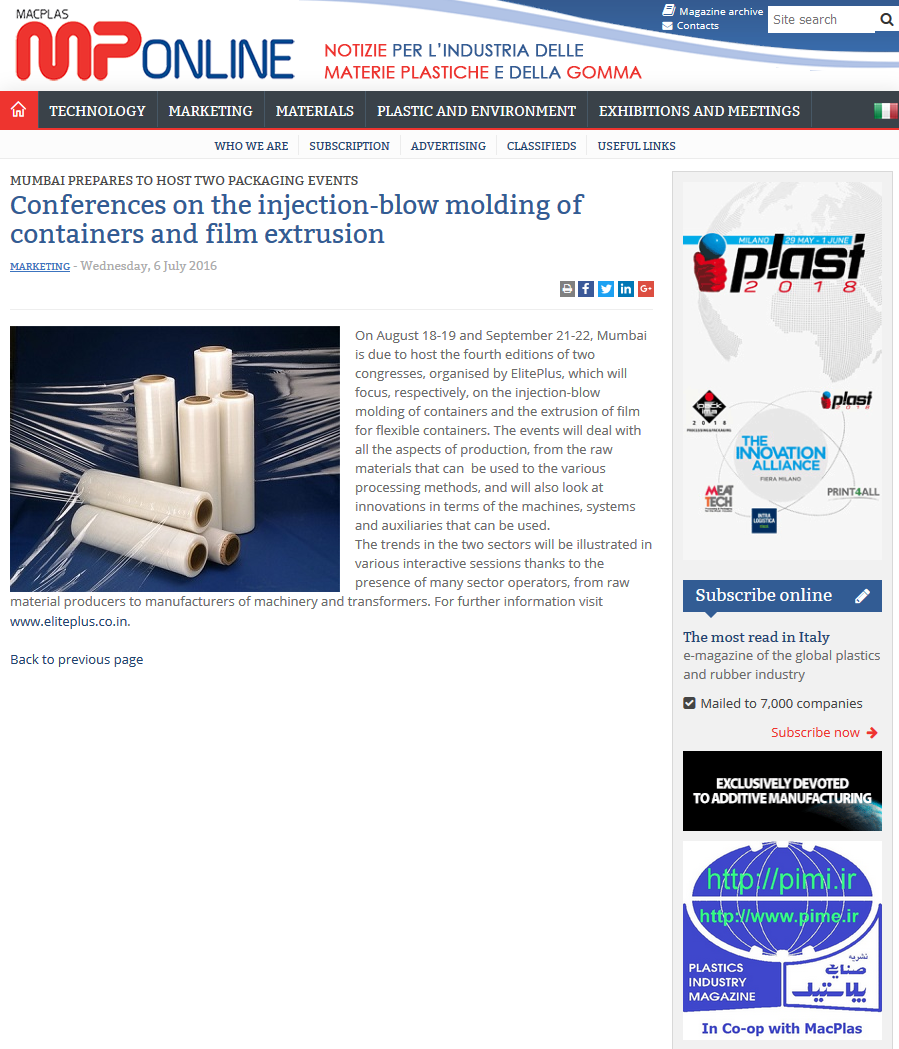 On August 18-19 and September 21-22, Mumbai is due to host the fourth editions of two congresses, organised by ElitePlus, which will focus, respectively, on the injection-blow molding of containers and the extrusion of film for flexible containers. The events will deal with all the aspects of production, from the…
Read More From The Source
Visit ElitePlus
About ElitePlus:
ElitePlus++ Business Services ( EPBS) is a Conference Management Group based out of Mumbai, India. EPBS has been organising conferences at Worlds Premier Petchem hubs like K in Dusseldorf and at Chinaplas. EPBS is specialised in conceptualising, planning and organising premier events in Petrochemicals, Plastics, Energy, Oil and Gas and Sustainable Development Areas. We specialise in organising: CEO Round Tables, Panel Discussions, Special Round Tables, Project Consultancy, Industry Standards, Advisory Services, Program Management for Various Association events including Talent Sourcing, Conferences and Exhibitions. Vinyl India 2011/12/13/14 Injection & Blow Moulding International Conference 2013/14 , Speciality Films and Flexible Packaging Global Conference 2012/13/14 and Automotive Plastics are the signature events of ElitePlus++ Business Services.
ElitePlus++ Business Services is a comprehensive Business
Management firm backed by highly experienced professionals in the field of Petrochemicals with global networking and exposure providing services which focus on Industry and specific segment growth, by conducting premier events in different sectors of
Petrochemicals including Polymers, Chemicals, Speciality
Chemicals, Logistics, Supply Chain related to Petrochem.
We are passionate about all things events. Our sweet spot is seeing your reaction to your events' wow moment.
We want you to not only love the experience of your event, but also the experience of working with us!
We're serious about detail, planning, deadlines and workload but we also know how to make work fun, creative and different.
The Serious Us
We are committed to creating a Knowledge Platform & innovative worldclass experiences that inspire, educate and connect industry players, scientists, technologists and academicians in Petrochemicals, Plastics, Water, Energy, Health Care and Sustainable Development Areas from all over the world.
Conferences on the injection-blow molding