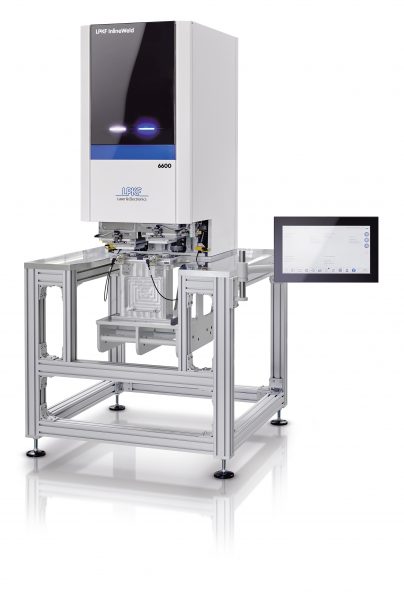 LPKF Laser & Electronics presents for the first time the new generation of the InlineWeld 6600 laser plastic welding system for joining plastic components in a fully automated production environment at the Fakuma in Friedrichshafen. This new development focuses on efficiency, cost minimisation and quality assurance for the user.
Fig. 1 (left) shows LPKF InlineWeld 6600 laser plastic welding system with intuitive system operation
The universally applicable, standardized LPKF InlineWeld 6600 welding system allows plastic components to be joined together quickly, safely and hermetically. The system with compact laser head and separate control cabinet is designed for three-shift operation with large production quantities. Thanks to extensive automation interfaces, the Inline system can be easily and quickly integrated into production lines and MES.
From the project setup to the finished and high-quality component, it is only a few steps. The perfect interaction of hardware and software makes a major contribution to the economical use of the machine. With just a few mouse clicks, a contour can be automatically generated that is converted into a perfect welding result on the calibrated working field. Short cycle times, which can be further reduced with the optional double clamping technology, ensure efficiency in the production process.
Conversion to various applications is carried out quickly using tried and tested, standardized tool change adapters – and with integrated tool recognition. Modern, variable servo clamping technology guarantees a consistently high connection quality over the entire weld seam. The integrated process monitoring in the LPKF InlineWeld 6600 ensures maximum process reliability.
Optimum results thanks to transmission measurement
With the LPKF TMG 3 measuring device, the transparency properties of plastics can be easily checked within a few seconds before welding. Since the optical transmission of the plastic is one of the decisive factors for the quality of the joint and since preceding process steps influence this, the simple control of the transmission properties prior to laser plastic welding pays off in the context of integrated quality assurance. For this purpose, the measuring device can be easily integrated into the production line.
Fig. 2 (left) shows the calibrated transmission measuring instrument LPKF TMG 3 detects material irregularities prior to the welding process.
Information
Visit us at the Fakuma in Friedrichshafen/Germany: From October 16 – October 20, 2018 in hall A4 at booth 4219.
LPKF Laser & Electronics AG manufactures machines and laser systems used in electronics fabrication, medical technology, the automotive sector and the production of solar cells. Around 20 percent of the workforce is engaged in research and development.
************************
Why Should Be "A Paid-Subscriber" and "Advertiser"
Keeping an independent media in countries that impose limitations on self supporting media, will help to support the humankind's freedom. If you believe it, please act to be a PRO-MEMBER by clicking "HERE", or:

Please send your PR's directly to my email address to be published in the world via " https://pimi.ir " my address is: aasaatnia@live.com