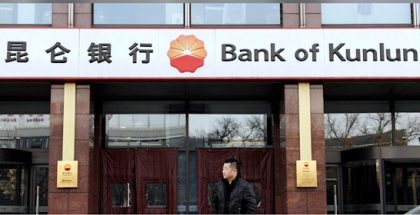 As the date of the second round of the US unilateral sanctions against Iran is approaching, hearings and information appeared at the news sources show that, some of the banks and financial institutions which were in the run-up and cooperation with Iran during to the first round of sanctions, are withdrawing from the Iranian market one by one.
In this regard, the Chinese Bank of Kunlun has announced that it will cut off its relations with Tehran until Oct. 31st of this year (2018) and suspend all its relations with Iran.
The Chinese Bank of Kunlun has announced that it will cut all its interactions and payments with Iran from October 30th, four days before the start of the second-round of US sanctions.
The bank has asked its customers to accelerate and intensify their efforts to complete and settle currency transactions within the next seven days.
It should be noted that the Bank of Kunlun had already stopped working operations with the Iranian banks that have recently been sanctioned by the US Treasury (Mellat, Parsian and Sina).
According to "Reuters":
Kunlun, the main official channel for money flows between China and Iran, has verbally informed clients that it will stop accepting yuan-denominated Iranian payments to China from Nov. 1, said the sources, who include external loan agents and business officials who trade with Iran.
The bank, controlled by the financial arm of Chinese state energy group CNPC, had already quietly suspended euro-denominated payments from Iran in late August, the four sources said, declining to be named due to the sensitivity of the matter.
Kunlun did not respond to an emailed request seeking comment. A CNPC spokesman declined comment.
The Bank of Kulun is a subsidiary of the 'CNPC' that is one of the greatest assets managment foundations in China. The China National Petroleum Corporation is a major national oil and gas corporation of China PR and one of the largest integrated energy groups in the world. Its headquarters are in Dongcheng District, Beijing. CNPC was ranked fourth in 2017 Fortune Global 500, a global ranking of the largest corporations by revenue.
************************
Why Should Be "A Paid-Subscriber" and "Advertiser"
Keeping an independent media in countries that impose limitations on self supporting media, will help to support the humankind's freedom. If you believe it, please act to be a PRO-MEMBER by clicking "HERE", or:

Please send your PR's directly to my email address to be published in the world via " https://pimi.ir " my address is: aasaatnia@live.com