As reported by the Iranian specialty media in the field, quoting from Association of PVC Pipes & Fittings' Manufacturers  (briefly referred-to as "Association"), at the latest seminar of the Association's members in the premises of the Iranian Chamber of Commerce,  with a view to grading PVC pipes and fittings as well as surveying the consumption trend of these products in Iran, new decisions were made over PVC products' grading.
Assuring Share of PVC Market by Implementing Grading Scheme
At the onset, Mr. Farzaneh, Secretary to the Association elaborated on the necessity, importance and vital role of implementation of the said scheme. In his speech, he qualified the lack of grading as a major challenge ahead of the Association and declared: "As a matter of fact, the lowest bidders routinely win the bids and tenders in our country. This untoward state of affairs not only brings much harm to the lowest bidder himself, but causes the industry to suffer the greatest losses as a result of which the share of the PVC in the market is, in the long run, diminished and this event is currently taking place."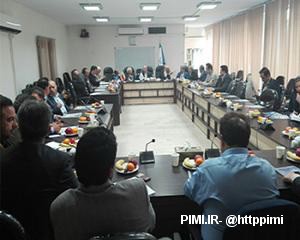 Release Date
Pointing out to the grading scheme's records in the Association, he declared: "The idea was first raised and approved in a Board  Meeting convened in 2013. Based on the decision of the Board, the scheme was to be referred and delegated, for expertise,  to an organ from outside the Association with tools and know-how  required to efficiently deal with issue. To promote the matters, we made correspondence with the competent authorities who submitted us their proposals. The proposals were subsequently evaluated in our Association by Technical, Scientific and Specialized Commission".
He further stressed on the positive feedback of the said scheme among the manufacturers and expressed the Association's readiness to conclude appropriate contract in order to implement the scheme. In another part of his speech, he enumerated some of the main critics who had found fault with the grading scheme, to whom the Association should not have deemed the matter as its first priority. Last but not least, he asserted that the implementation of the scheme will assure the share of the P.V.C. pipe and fitting industry in the future.
************************************
Release Date 12 March 2016