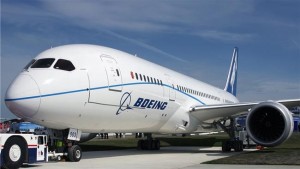 Iran says it has invited US plane manufacturer "Boeing" for talks with Iranian companies on modernizing its fleet.
The announcement was made by Iran's "Minister of Roads and Urban Development" Abbas Akhoundi.
Akhoundi said the invitation had been made following the green-light by the US administration for Boeing to being commercial talks with Iran.  However, he did not specify when officials from the US plane maker will visit Iran.
Akhoundi's deputy, Asghar Fakhrieh Kashan, told AFP: "We never closed the doors to Boeing, and we are ready for negotiations whenever they come."
Boeing said on February 19 it had received authorization from the US administration to study the commercial plane market in Iran, in the wake of the lifting of nuclear sanctions in mid-January.
Iran has already announced orders for the purchase of 118 Airbus aircraft as well as some 40 planes from ATR, the European manufacturer of turboprop aircraft.
The country has a potential order list for 500 commercial planes to renovate its aging fleet. According to Minister of Roads and Urban Development Abbas Akhoundi, Iran's current civil aviation fleet consists of 248 aircraft with an average age of 20 years, of which 100 are in storage.
It has also been negotiation with Boeing to acquire aircraft under lease or sale/leaseback deals.
Iran's aviation industry had been subject to a US embargo since 1995 that prevented Western manufacturers from selling it equipment or spare parts.
Further complications for the country's aviation industry emerged when a series of draconian sanctions were imposed against the country over the past few years as a result of disputes over its nuclear energy program.
Nevertheless, Iran saw an opening in opportunities to revamp its aviation fleet when in January the nuclear-related sanctions were lifted and the companies were authorized to sell planes and parts to the country.