Now the K 2019 exhibition is on the timetable of thousands of international visitors and as a tradition the K Portal is increasing the number of its news from exhibitors. To keep PIMI viewers informed, also, be loyal to main news source, PIMI will publish part of the news if it has been generated by a media exhibitor, and if it is from the companies, we refer to the link. The following report has been provided by "plasteurope" and published at the industry news sector of the K portal:
Greenpeace report shows US, Japan and Germany were top exporters of plastics scrap 2018 / Norway proposal under discussion at UN Basel Convention meeting.
Southeast Asia is on the receiving end of the worlds low-quality plastics waste flow, along with having to deal with water contamination, crop death and illness, according to a new report by the Global Alliance for Incinerator Alternatives (GAIA; www.no-burn.org). The report includes global waste data from Greenpeace East Asia (Hong Kong; www.greenpeace.org/eastasia), which assessed plastics waste trade before and after Chinas 2018 ban on imported waste (see Plasteurope.com of 26.07.2017) by looking at data from the top 21 exporters and top 21 importers of plastics scrap.
GAIA's field investigations in Indonesia, Malaysia and Thailand have detailed illegal recycling operations, open burning of waste, water contamination, crop death and a rise of illness tied to environmental pollution. The alliance has a dedicated microsite for these studies.
The Greenpeace data show that Southeast Asias current plastics crisis involves waste piling up domestically and globally. Total plastics waste exports of the top 21 exporting countries plummeted 49%, from 12.5m t in 2016 to 5.8m t in the January to November 2018 period. Greenpeace says this drop in exports in part means that "recyclable" plastics will continue to pile up or be disposed improperly. The top five exporting countries between January and November 2018 were the US (with a 16.5% share of total exports), Japan (15.3%), Germany (15.6%), the UK (9.4%) and Belgium (6.9%).
Southeast Asia became a primary importing region for plastics waste from mid-2017 to mid-2018, with in particular Malaysia, Vietnam and Thailand taking up large quantities. From January to November 2018, the top five importing countries/regions were Malaysia (15.7% of total imports), Thailand (8.1%), Vietnam (7.6%), Hong Kong (6.8%) and the US (6.1%).
Following Chinas import ban and the resulting waste that flooded into Malaysia, Vietnam and Thailand, the three countries set up import restrictions shortly afterwards see Plasteurope.com of 05.11.2018. This presented a challenge for exporters including those in Europe see Plasteurope.com of 02.07.2018. In early 2019, Malaysia had a crackdown on illegal plastics recycling plants see Plasteurope.com of 01.02.2019. Exports then flowed into other countries, with increases seen in India, Taiwan, South Korea, Turkey, and Indonesia. Greenpeace says this second wave of other countries accepting more imports shows a markedly smaller rise, which does not fully account for the drop in imports from the restrictions imposed in Malaysia, Vietnam and Thailand.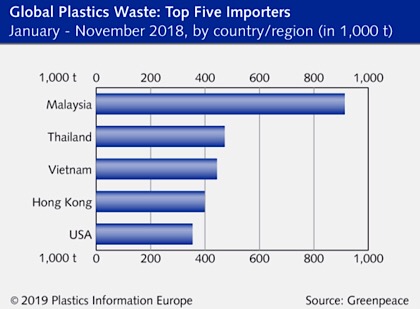 Please read more form the publisher "k-online.com" 
Also read more on "plasteurope"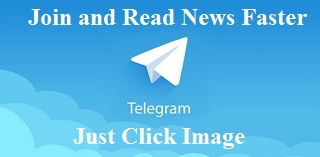 ************************
Why Should Be "A Paid-Subscriber" and "Advertiser"
Keeping an independent media in countries that impose limitations on self supporting media, will help to support the humankind's freedom. If you believe it, please act to be a PRO-MEMBER by clicking "HERE", or:

Please send your PR's directly to the email address of the Chief-Editor in order to be published at once in the world via " https://pimi.ir " The address is: aasaatnia@live.com.
Hits: 0