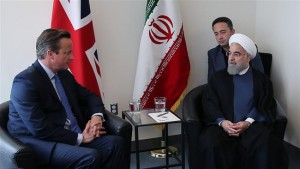 Iran's President Hassan Rouhani said on Tuesday that Tehran wants expanded economic ties with Britain in the wake of the lifting of the sanctions on the Islamic Republic.
Rouhani made the announcement in a phone conversation with the British Prime Minister David Cameron. He emphasized that Iran welcomes the investments of European companies in its economy and specifically any initiative that would lead to the transfer of technology to Iranian companies.
Rouhani also told Cameron that Iran is ready to expand cooperation with Britain over the banking industry.
Elsewhere in his remarks, the Iranian president said that Tehran is determined to press ahead with the full implementation of the Joint Comprehensive Plan of Action (JCPOA) that officially became effective over the weekend.  He said all parties involved in the JCPOA – including Britain itself – should struggle to make sure that this process moves ahead smoothly.
Cameron, for his part, emphasized that London is determined to contribute its own share to the implementation of the JCPOA. He said Britain stands ready to share its financial and banking expertise with the Islamic Republic. Cameron said London and Tehran have already reached a stage that requires further expansion of their relations. He said the two sides should specifically boost their consultations over regional issues.
Sources: Iranian Media and news agencies